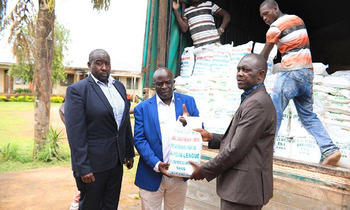 HEALTH COVID-19 RELIEF

The leadership of the National Resistance Movement (NRM) Diaspora community has donated 7 tonnes of maize flour to families and religious groups affected by COVID-19 Pandemic in Luweero district.

According to the NRM Diaspora league chairman Abbey Walusimbi, most homes depended on daily income from businesses which were affected by the current lockdown in the country.

Delivering the food aid, Walusimbi said their action was in response to President Museveni' call to help those in dire need of food.

"A friend in need is a friend indeed. In these times when people are at home 24/7 due to the ongoing lockdown," Walusimbi said.

Isaac Kigozi a member of the diaspora community also director East African Partners said there is need for those who can, to help those in need at a time like this when many families are sleeping on empty stomachs.

He said: " If a man-made candle can share its light without losing itself why not us humans".

Kigozi expressed optimism that Uganda which is currently facing economic hardships following the current lockdown, would soon pick up when the Pandemic is finally gone.

Among those that contributed to the food relief, is California based black records CEO, Cedric Singleton.

The Diaspora community donated 300 bags of maize flour to religious groups such as Muslims, Catholic and the Born again and Protestants.



The district Kadhi of Luweero Sheik Ramadhan Mulindwa appreciated the team for their generosity.

He said the donation is timely since most of the Muslims are currently in the Ramadhan period.

On behalf of Luweero district, Ronald Ndawula, the LC5 chairperson of the district, commended the team for donating to the district task force.

The team will also donate food to Bududa landslides victims, in Mbale.