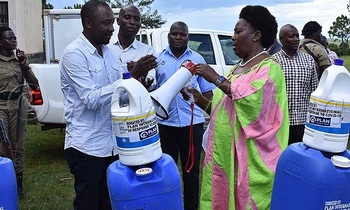 HEALTH COVID-19 RELIEF

KAMULI - The Speaker of Parliament, Rebecca Kadaga has asked men to take advantage of the 'lockdown' period to rejuvenate marital relationships instead of fuelling domestic violence.

Kadaga's call comes at a time when cases of domestic violence are high among many households partly due to the lockdown. This, Kadaga said should be a window of opportunity to revive love.

"Some men are fed-up of staying home, but please use this time to rejuvenate relationship with your spouses and also get to know more about your children; that will be good for us," she said.

Kadaga made the appeal after receiving sanitizing items donated by Plan International to the Kamuli district Covid-19 taskforce on Wednesday at Kamuli Youth Centre.

In re-echoing president Museveni's key directives meant to nip the Covid-19 pandemic in the bud, Kadaga appealed to communities to wash hands, avoid congested places and sneezing in public.

Items received from Plan-International included megaphones, liquid soap, water containers and JIK among others.

Kadaga who is also the woman MP for Kamuli District thanked Plan-International for coming-in handy at the time of need. She appealed to the district technical team to disseminate Covid-19 preventative guidelines in appropriate formats, through availed equipment.

Paul Bagula, the Programme Unit Manager of Plan-International noted that, as development practitioners, their task is to partner with Kamuli District to play a preventative role in the spread of the Covid-19 pandemic.

"We partnered with the district and trained all health workers in the management of the pandemic, now we have provided enabling equipment in the war against the pandemic," he said, adding that preliminary efforts have cost over 70million.

Thomas Kategere, the district LC V Chairperson voiced concerns about the security of people's property in the communities, a case he said, remains a key challenge.

Dr Aggrey Batesaaki, the District Health Officer, was optimistic that, availed megaphones will help health workers reach out to people in the village with minimum effort.

The event was attended by the minister of state for Karamajoa affairs Moses Kizige, and the Resident District Commissioner (RDC) Moses Dumba among others.