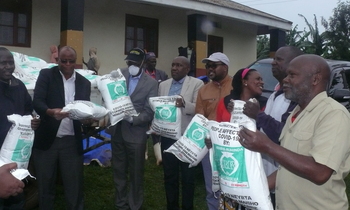 RUKUNGIRI COVID-19

The Association of Banyaruhinda of Rujumbura in Rukungiri District have donated 9.5 tonnes of maize flour and a truck full of matooke to help residents of Ruhinda sub-county who were affected by the national coronavirus lockdown.

According to the group Chairman Canon Benson Turamye, a study was done in the and the most affected people were identified. Each will get at least 10kg of maize flour.

"The church leaders were among the people who used to depend on churches, but the churches were closed. They don't have any other stable income and yet they have families," he said.

Canon Turamye explained that a church leader with large family will get 20kg of maize flour and those with small families will get 10kg.

He added that other major groups identified to receive the relief food include residents of Nyarwimuka Parish, which was hit by hailstorm while others are boda boda cyclists, salon owners and those who live in trading centres.

Canon Turamye said their organization aims at development and unity of people from Ruhinda in Rujumbura and it started with very few members who live in Kampala and now has a total of 258 active members.

Turamye was accompanied by the Vice-Chairperson of the Association, Posiono Ngabirano, Legal counsel Martin Mwambusya, Finance Secretary Henry Mugerwa and Rujumbura County Member of Parliament Fred Tumuheirwe Turyamuhweza.

Speaking at the relief food handover function Turyamuhweza said they liaised with District Coronavirus Taskforce to identify the needy people in the whole district who will be considered for food distribution.

"This portion is for the people of Ruhinda, but we have food for all needy people in the whole district and we shall reach everybody affected by coronavirus pandemic lockdown in the district," Turyamuhweza said.

Turyamuhweza praised the Banyaruhinda Association for supporting the needy in the time of need.

"This is very young organization but we have done very many things for our people, especially in churches, schools and health centres," he said.

The relief food was received by the Chairperson of the District Coronavirus TaskForce, Dan Kaguta who was accompanied by the Chief Administrative Officer, Elias Byamungu and the District Chairperson Andrewson Charles Kateebire.


While receiving the relief items, Kaguta said they have a team of technocrats who are also civil servants in Rukungiri district who are mandated to distribute relief food to the needy people.

"As you can see there is no politician in the whole group. We want only civil servants whom we think have no sides while distributing this food," Kaguta said.

He, however, said in some areas, they use Local council chairpersons and some councillors.

"Anyone who mixes this pandemic with politics is a big enemy of our country and should be charged in court," he said.

He added that as head of security in the district, he made sure that there is enough security at Bwambara and Rwenshama Landing sites found at border of Rukungiri and Democratic Republic of Congo as a measure to prevent spread of the disease.