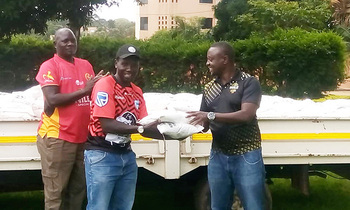 CORONAVIRUS & SPORTS

The Uganda Rugby Union on Friday donated 5.4 tonnes of maize flour and 3.2 tonnes of beans to its 36 active rugby clubs in the country.

The clubs will then decide on how to distribute the relief food food to their players. Each individual is supposed to get 5kg of maize flour and 3kg of beans.

The donation comes against the backdrop of the coronavirus pandemic that has affected the world, with sports taking a big hit. All sporting activities were suspended and others canceled in Uganda and around the world.

"We went through clubs because they know better their players," URU president Godwin Kayangwe said.

"They will pick the most vulnerable players that they think should get the food," he added after handing over the food to club officials at Velocity Club in Kyanja.

Kayangwe explained that the suspension of sports activities and the lockdown has affected the sport of rugby, with many players not being able to earn as they would normally.

He said players have not been able to receive some support from the rugby games like in normal times.

"URU has thus agreed to support this category of players with some basic food to help them try to keep afloat and clubs will also supplement what they can afford," said the union president.

Urging players and the entire rugby family to stay safe and abide by official guidelines, Kayangwe urged players to continue keeping fit as they may be overwhelmed by a lot of competitions when the lockdown is lifted.

It is understood the national 7s team is in preparation for the Tokyo 2020 Olympic Games qualifiers postponed to next year because of this pandemic.