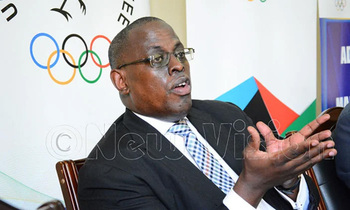 CORONAVIRUS & SPORTS

Uganda Olympic Committee secretary general Donald Rukare has urged federation leaders to embrace technology to remain relevant in the management of sports during the COVID-19 pandemic lockdown.

He voiced the call in his keynote presentation on governance during a virtual meeting of UOC members on Friday.

Rukare, who is also the chairperson of the National Council of Sports, said the pandemic has disrupted sports activities and brought into focus the need to refocus how operations are done from a governance perspective.

"Our calendars have been disrupted, but we need to embrace technology and be able to work at home and conduct executive meetings online so that we keep relevant to our stakeholders.

"The ability to remain operational - effectively and efficiently - is ensential. We must be ready and equipped for the new reality," said Rukare, adding that there are operations that do not require physical meetings.

Members, including swimming federation representative Albert Shinnosuke and Simon Komakech of Uganda Taekwondo Federation, pledged to adopt the strategy.

UOC chairman William Blick, who chaired the virtual meeting, said the pandemic had changed things, with many sports activities affected worldwide.

With the Tokyo 2020 Olympic Games postponed to next year, Blick urged athletes who have qualified to remain focused on personal training for fitness.

"The Olympic Solidarity has been approached for possible support for athletes that have qualified and addition discussions will be held with National Council of Sports," he said.

As many as 38 federation heads and representatives participated in the meeting.