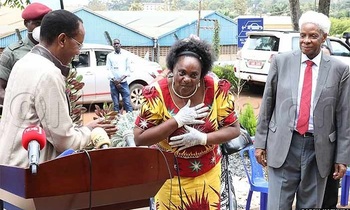 HEALTH VIRUS RELIEF

KAMPALA - Compassion International has donated sh1.2b to the coronavirus task force initiated by President Yoweri Museveni to solicit funds towards the fight against coronavirus pandemic.

The donation was delivered by the organization's senior manager, Godfrey Wayengera. The dummy cheque was handed over to the head of the national COVID-19 task force team Mary Karooro Okurut.

Wayengera asked the team to use the funds to procure food for vulnerable children like the street children and babies' homes in the country. The organisation has also set aside sh700m to support people living with HIV.

"We are ready to donate another sh4.4b in case the pandemic persists than anticipated," Wayengera said.

Compassion International is a global Christian NGO committed to assisting vulnerable children.

More donations
A group of nine female Ambassadors heading different Ugandan missions abroad contributed 6.53 tonnes of rice worth sh23m.

They were led by Nimisha J. Madhvani, a representative from Nordic Countries.

The female Ambassadors include Miriam Blaak Sow (Brussels), Joyce Kikafunda (Australia, New Zealand, Fiji, Papua New Guinea and Solomon Islands), Awere Phibby Otaala (Kenya) Barbara Nekesa (South Africa,) Rebecca Otengo(Ethiopia) Oliver Wonekha ( Rwanda) Joy Ruth Acheng (Canada) and Mumtaz Kassam Deputy Head of Mission (Rome).

Also, the support staff of the Embassy of Denmark contributed sh1.84m, towards supporting woman and men who have been victims of sexual and Domestic Violence during the COVID- 19 lockdown.

Former Vice president Gilbert Bukenya also donated four tons of Maize Flour to the cause. Bukenya praised President Yoweri Museveni in the fight against COVID-19.

Speke Group of Hotels under the Ruparelia Group of Companies donated sh100m.

The Democratic Party contributed 5 tonnes of Maize flour. They were brought by DP president general Norbert Mao.

Nakaseke MP Paulison Luttamagizi donated sh2m. He pledged to contribute more sh 2m from his salary every month.