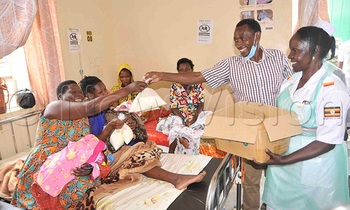 COVID-19| DONATION

MUKONO - Sick people and their attendants in Mukono General Hospital have got a sigh of relief after receiving two litres of milk per person.

The distribution follows a donation of 3000 litres of fresh milk from one of the farmers in Mukono district, Lawrence Busuulwa.

The Mukono district chairman, Andrew Ssenyonga led the team that distributed the milk to the patients and their attendants at Mukono General Hospital.

Ssenyonga said they decided to distribute 200 litres of milk to different health units on a daily.

Esther Baroma, the Mukono district women's league chairperson said they discovered that the sick in the hospitals are sleeping on empty stomachs.

"Unfortunately, even the government health units in the district do not have the capacity to provide food to the patients. We are going to discuss with the rest of the members on the district COVID-19 task force and see what to do," she said.

Florence Nakiyimba, who was attending to her sick father said they cannot move from hospitals back home and pick food on a daily basis as it used to be yet the people who would facilitate them are held up at home with nothing eat.