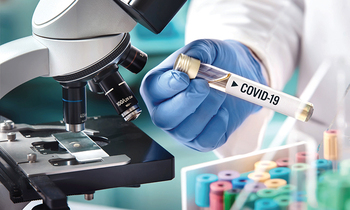 By Chris Kiwawulo and agencies

COVID-19 | TRIBUTE

Three family members of Dr. Eric Labeja-Acellam, a Ugandan doctor who died of COVID-19 in the UK recently, are still battling with the virus.

The three, including the fallen doctor's wife, Jennifer Lawala, are suspected to have contracted the virus from the deceased medic.

Lawala, 56, had been admitted to St. Thomas' Hospital, where she spent two days in intensive care after her husband died. Labeja-Acellam was preparing to retire at the time he died on March 31.

Lawala is now recovering at the family home in Oval, South London, where her son, Oscar Acellam, 28, has also been battling the virus. Lawala's sister, Roselyn Otim, 54, who lives in Ruislip in west London, is also battling the virus.

Labeja-Acellam, 75, was a renowned Ugandan medical consultant, who was working with Lewisham University hospital in the UK.

His wife told The Mirror Online that Labeja-Acellam, who had suffered a stroke and was being cared for at home, began feeling unwell on March 15 and was taken to hospital King's College Hospital three days later and moved into intensive care.

Lawala said she suspects her husband caught the virus from his carer, who was unknowingly infected while still seeing patients.

A few days after the carer visited, her husband started feeling unwell and he reportedly did not want to eat or drink. Lawala said the carer later tested positive and his wife and another of his patients have also died after contracting coronavirus.

Labeja-Acellam, who had 10 children, is one of at least 40 National Health Service (NHS) workers who have died after becoming infected with the virus.

Bodies not allowed back

As COVID-19 continues to rear its ugly head, bodies of Ugandans who have died of the pandemic from abroad are to be buried in the respective countries.

According to a Ugandan, who lives in Boston, US, governments are now burying foreigners in public cemeteries. The same is true with UK.

"I heard some Ugandans asking whether there was a possibility of transporting bodies of their loved ones back home. But that is not going to be possible. We are not even allowed to gather for vigils. We only move out to groceries to buy food," said the Ugandan working in the US, who preferred anonymity.

He revealed that he had heard of another case of a male Ugandan who died in Massachusetts. The Massachusetts death brings the number of Ugandans who have so far died in the US and the United Kingdom (UK) to 17. Of them, seven died in the US while 10 died in the UK.

US deaths

Besides the Massachusetts death, Ugandans who have died in the US include; Edward Ssengendo and Hajji Mugerwa.

Mugerwa, who was based in New Jersey, is said to have travelled from Uganda in early March through Dubai where he visited his sister before proceeding to the US.

Before Ssengendo and Mugerwa, four other Ugandans died in the US.

They are; Proscovia Kabunga and Maria Gitta, who were both working as nurses in the US. Others are; Hajji Sulaiman Kigundu alias Masanyalaze and her sister Hajat Nassolo. The two hail from Masaka.

Other UK cases

Besides Labeja-Acellam, Margaret Ssali, the wife of the late Prof. Charles Ssali, also died in Kent, UK of COVID-19. Prof. Ssali was the first ENT (Ear Nose and Throat) specialist in Uganda.

Earlier on March 29, Pastor Charles Paddy Kayiwa died of COVID-19. Pastor Kayiwa was the lead pastor of Alpha & Omega Ministries - UK Charlton.

Other Ugandans that have died of the pandemic in the UK include; Sarah Acheng, Boniface Okee, Susan Onyac, Gertrude Lukeca, Jane Kobong, Nancy Kigozi, Erina Zikusooka.