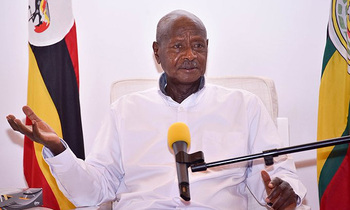 UGANDA FIGHTS CORONAVIRUS

Live reporting by Joseph Kizza
Twitter: @joekizza

(Scroll down the page for earlier updates)

_________________________


10:34pm | Good night!

And that is it for today's presidential address coverage! Thanks for sticking along. Stay safe out there!


_________________________


10:31pm | Over 30 French studies under way into COVID-19 treatment

Meanwhile, AFP reports that more than 30 studies are under way in France -- of a world total of 860 -- in search of drugs to treat the COVID-19 disease sweeping the world, infectologist Florence Ader said Sunday.


The research is "extremely active" in France involving some 1,600 patients, Ader told a news conference.

Ader heads up a study dubbed Discovery in collaboration with several other European countries, with researchers conducting clinical trials of four potential treatments including the controversial hydroxychloroquine.

Of some 3,200 patients in Europe, at least 800 are in France. All are in hospital and severely ill with COVID-19.

Around the world some 150 projects seek to develop a vaccine against the novel coronavirus. France's prestigious Institut Pasteur will carry out trials on humans by this summer, Ader said.


_________________________


10:15pm | We have taken precautions - Kyambadde

Minister Amelia Kyambadde (trade, industry and cooperatives), who is on the COVID-19 national taskforce, says that they agreed with URA to have any truck driver tracked until their final destination.

If that driver makes a stop-over along the way, the taskforce of that particular area should be alerted to ensure that that motorist does not last more than 15 minutes in repose to avoid his potentially spread the virus, if any.

"So, we have taken precautions in that area."


Away from the tracking system, Kyambadde then raises another issues concerning the food being donated.

"Some of these donations are not certified, especially the maize flour," she says, suggesting that the Uganda National Bureau of Standards (UNBS) should take samples of every food donation and test for quality.

In response, the President says that that move would instead create more costs for UNBS. He suggests that if the food is found to be not fit for human consumption, it should be withdrawn.

On this, the head of the donations fund, minister Mary Karooro Okurut (general duties), clarifies that so far, all but one of the food packages that have come from well-wishers has passed the quality test.

She says there are UNBS officials at the store where the donated food is collected, who check the food stuff for quality.


_________________________


10:05pm | President responds to questions

As the current chairperson of the East African Community (EAC), President Paul Kagame got the health ministers of member states to meet virtually and agree on common guidelines on the coronavirus fight, says the President.



On the issue of cargo drivers being kept at the borders until their coronavirus test results are out.

"If you say that the current 800 truck drivers [who make it through the borders] stay at the border, it will interfere with business," says Museveni. "The economy should move, but move without the disease spreading."

It takes 24 hours for the coronavirus results to return.

The President reasons that since the public is aware of the measures in place to curb the spread of the virus and that the driver would also be assumed to be keen on protecting himself, then he should be allowed to move on.

"Delaying him will incur costs - to his boss(es)," says Museveni, adding that if he is found to be COVID-19-positive, he can be tracked.




_________________________


9:51pm | Gov't injects sh200bn into COVID-19 efforts

The government has injected sh200bn into the COVID-19, says President Museveni, adding that the donations, which we are told amount to sh4.5bn, is a god addition to the coronavirus fight.

Next up, the President is taking questions.




_________________________


9:39pm | 'Thank you - and I also want more cars'

While reading the donations, the President quips by insisting on his wish to see more donations of cars on list.

And he wants them in 4X4 pickup form - and brand new.

He has previously reiterated how he wants to build a fleet of vehicles to help both in the short term (coronavirus fight) and in the long term, where he wants each district to have 10 vehicles for operations.

But what is most important is that Museveni has appreciated the generosity of each and every donor.


🚙🚙HERE THEY ARE!

Following President @KagutaMuseveni's appeal to the wealthy business community to boost Uganda's #coronavirus fight with vehicles, Mandela Group of Companies has donated two vehicles to the cause. #VisionUpdates

[THREAD] pic.twitter.com/TQBEBxEzHl

— The New Vision (@newvisionwire) April 7, 2020

_________________________


9:29pm | Clearing floating island

The clearing of the floating mass at Nalubaale is in its "evening stage", says the Uganda Electricity Generation Company Limited.


Then vs Now.

The efforts to clear the floating island that docked at Nalubaale Power Station are in their evening stage. Kudos to all the teams involved. pic.twitter.com/MFisaxHX1B

— UEGCL (@UegclOfficial) April 19, 2020

_________________________


9:16pm | 'I congratulate Ugandans'

The President congratulates Ugandans for the progress realised thus far in the fight against the coronavirus.

"We have defeated the locusts, we shall defeat coronavirus, we shall defeat the floating island. I really want to congratulate all of you Ugandans."

Next up, Museveni reads the latest donations to the COVID-19 relief efforts. It is a very long list, by the way.


NRM's National Vice Chairman, Al-Hajji Moses Kigongo, has called on other political parties to join the fight against #Covid19, saying that it is a war that must be fought together. @NRMOnline has donated sh380m to the #Covid19UG fund.

📸: Nicholas Oneal |#VisionUpdates pic.twitter.com/h6bQRESjS4

— The New Vision (@newvisionwire) April 19, 2020

_________________________


9:10pm | Museveni warns lake encroachers

The President has delivered a stern warning on the people who cultivate on the shores of the lake and on its banks. "Please get off, NEMA is coming for you!"

This is in reference to his visit to Jinja today, where he was informed that the water level of Lake Victoria has risen to 13.21 metres. This is the second-highest since May 1964 - when the lake went up to 13.41.

On the floating island that caused a disruption at the dam, leading to a nationwide power blackout, Museveni thanks the engineers for working around the clock to solve the problem.

He says they found crops on the floating mass, meaning it had been encroached on.




_________________________


9:05pm | We have killed the locusts - Museveni

Much of recent attention has been so much on the coronavirus that Ugandans quickly forgot that we were in a different fight before the arrival of the marauding virus.

Remember the desert locusts that invaded Uganda?

The President is keen to say that the UPDF has been busy snuffing them out. The tactic, he says, was to attack them from the ground as opposed to an aerial strategy, which has worked.

"We have killed the locusts," says Museveni.

"We are strengthening our capacity. I congratulate the UPDF for moving and reaffirming our culture of serving our people using innovation and dedication."


_________________________


8:57pm | On burying the coronavirus dead

The President says that anybody who has died of the coronavirus "must be buried where they have died".

While some Ugandans have died of the virus abroad, Uganda has not registered any COVID-19-related death within its boundaries.

So far, 55 people have been tested positive for the virus in Uganda, with 28 discharged after successful treatment.




_________________________


8:53pm | Boda bodas can stay on the road until 5pm

The restriction of boda bodas (strictly carrying cargo) on being on the road has been revised. Initially, they were required to be off the road by 2pm.

"Later, we realised that 2pm is too early," says the President.

As such, the guidelines have been revised to allow them go on until 5pm.


_________________________


8:50pm | 'Sorry I could not stop to greet you'

The President apologises for not stopping to greet the locals on his way to Jinja to check on the damage caused by the floating island at Nalubale Bridge. He explains he was only sticking to the guidelines of social distancing and so did not want to draw crowds, who were eager to see him stop to greet them.

He also mentions that his car hit a he-goat along the way. He did not stop, so he has directed the DISO of the area to get in touch with his team to have the owner of the goat compensated.


The Bazukulu have not seen this before. It first happened in 1964. pic.twitter.com/XxyS57nlbK

— Yoweri K Museveni (@KagutaMuseveni) April 19, 2020

_________________________


8:47pm | On hoarding food supplies - 'I don't like selfish people'

The President says that once he gets wind of suppliers hoarding food in the hope of making profits later, he will import the food instead.

"I don't like selfish people. If I hear that there is not enough maize or beans because people are hoarding from the market, then I will import - and forget about you, because you are crooks, and your food will rot.

"So please, no games!" he warns.




_________________________


8:42pm | On motorists flouting lockdown guidelines

"Those vehicles will be confiscated," warns the President.


_________________________


8:40pm | 'Scientists should be paid well'

"I want to thank and congratulate our health workers," says Museveni.

"They have done a wonderful job. They were not well prepared, but with the little they got, they managed to treat the 55 coronavirus-positive patients. And the consequence: no death."

In the same spirit, he also thanks the scientists, whom he says have managed to sequence the strain of the virus in Uganda to get a better understanding of what we are dealing with.

Museveni rallies beaucrats to "pay the scientists well (...) because scientists have practical solutions" to such problems.

"These scientists should be paid well," says Museveni, emphasising that his position has always been to prioritise scientists over other disciplines.


_________________________


8:32pm | Dispersal: Survival technique 'is not new'

The President says that in the fight against coronavirus, "the technique of dispersal, once you know that characteristics of the disease, is not new".

He turns back the hands of time to the 19th century to illustrate this.

"In 1893, there was an outbreak of smallpox. Our ancestors quickly learnt that technique of 'Do not concentrate'. And it worked for them."


_________________________


8:27pm | Museveni inspects Nalubale Bridge

By the way, earlier today, the President inspected the extent of damage caused by a 16-acre moving island that partly blocked Nalubale Bridge.

Remember the nationwide blackout a couple of days ago? Well, it was caused by that land mass which moved towards the dam, causing problems.

"I can see works on the ground to contain the movement of this island and restore normalcy," tweeted the President.



_________________________


8:22pm | Museveni addressing nation now

The presidential address is underway at State House.


_________________________


8:20pm | Using technology in coronavirus fight

One of Uganda's strategies to contain the coronavirus is to test all cargo transporters at border points. Last Sunday, a truck driver headed for South Sudan was tested, before being cleared to carry on with his journey. The following day, results returned indicating that he was positive for COVID-19.

Immediately, URA used its regional electronic cargo tracking system trace the actual movement of the driver from the Malaba one-stop border post up to the Corner Kamdini customs checkpoint, where he was intercepted.


The tracking system uses the Global Positioning System (GPS) to trace the movement of trucks from their point of entry in a country all the way to the point of exit.

Later, a team led by minister Amelia Kyambadde (trade, industry & cooperatives) and Katumba Wamala (works and transport) met with URA officials to discuss how they further use the tracking technology in the war against the coronavirus.


URA Commissioner General John Musinguzi guided the COVID-19 national taskforce team on a tour of the system's control centre, where they checked out operations happening in real time. They also checked in at the Central Command Targeting Centre, where real time monitoring of activities at the borders is done.

From this monitoring, the national taskforce can review what is happening at the border points and take necessary action. In the fight against the coronavirus, the safety of truck drivers is as important as the need to ensure they do not potentially spread the virus to people along the routes they ply.


_________________________


8:15pm | Which vehicles are allowed on the road?


• Vehicles with Ministry of Works and Transport stickers with barcodes linked to the purpose and driver and in observance of the Ministry of Health standard operating procedures (SOPs).

• Official vehicles of the army (UPDF), Police, Prisons, Uganda Wildlife Authority, Uganda Wildlife Education Centre, Directorate of Citizenship and Immigration Control, Judicial Integrity Committee and private security companies. Occupants of these vehicles must carry institutional IDs and in line with the SOPS from the Ministry of Health.

• Official vehicles with Ministry of Works and Transport stickers for medical, NWSC, power generation, transmission and distribution companies, banks, Judiciary, Uganda National Roads Authority, Uganda Revenue Authority, National Drugs Authority, Directorate of Public Prosecutions, National Medical Stores, Uganda Red Cross/ICRC, Civil Aviation Authority, National Bureau of Standards, telecom companies, media, Kampala Capital City Authority, urban authorities, cleaning services, manufacturers, pharmacies and veterinary officials. These are all authorized to strictly carry essential staff only during this period.

• Patients with chronic illnesses such as cancer and kidney failure that warrant frequent hospital checkups. They must carry along relevant medical documents.

• All cargo trucks.

• All bodabodas, motorcycles and bicycles without passengers from 6.30am to 2pm.

In the meantime, the taskforce says it is "addressing concerns from individuals whose stickers were erroneously withdrawn, with the Ministry of Works and Transport", and has "highly regretted" any inconveniences caused.

"We have screened and returned them to the Ministry of Works and Transport headquarters, and kindly call upon the few affected persons to pick them," adds the joint statement.


_________________________


8:10pm | Cracking down on drivers defying lockdown


As we await the President's address tonight, let's have a look at what is happening on the roads.

At a time when the movement of vehicles in Uganda is restricted as part of measures to curb the spread of the deadly coronavirus, some motorists have been found to flout the directives.

Some, according to Police, had no particular reason to leave their homes and get on the road. Others were driving to "visit friends, go for non-essential shopping and transport passengers".

The joint security taskforce got to know this at the various checkpoints mounted as part of nationwide operations to crack down on disobedient drivers.

A Saturday statement by the Police spokesperson Fred Enanga on behalf of the joint taskforce spokespersons indicated that a total of 83 stickers were withdrawn from motorists for various reasons. Some stickers were not linked to the IDs of the bearers while others were duplicated or photocopied or scanned and then printed.


Some vehicles were misused by drivers to conduct non-essential movements including being hired out by unauthorized persons while others were using old stickers from the health ministry that had been declared invalid. Security said that some institutional vehicles carried excess staff.

While most of these drivers were asked to return home, some vehicles were impounded.

"We also encountered vehicles with permits from RCCs/RDCs and LCs, with clearances for periods of up to one week that are not related to medical emergencies; pickups carrying passengers and institutional vehicles like banks that were carrying non employees, most likely for commercial or other reasons," the joint statement reads.

A pharmacist, who reportedly bought a forged sticker under the utilities category, and a veterinary officer who is said to have been found with a photocopied sticker that was reportedly issued to his wife, are under investigation.

"We are expanding our operations to crackdown on shop owners dealing in non-essential items," said the taskforce.

"For emphasis, all our frontline officers have been given guidelines to follow while at checkpoints and how to verify the bar codes on all stickers issued by the Ministry of Works and Transport."


_________________________


8:00pm | What we know so far

On Sunday, six patients were discharged from Mulago National Specialised Hospital after testing negative twice for COVID-19, bringing the total coronavirus recoveries in Uganda to 28.

A summary of the latest testing stats issued by the health ministry are as follows:

• 1,126 samples tested negative for COVID-19

• 837 samples were from truck drivers at border points

• 289 samples were from individuals under institutional quarantine and contacts to confirmed cases

• Confirmed cases of COVID-19 stand at 55 in Uganda


_________________________


7:45pm | Controlling the coronavirus

So here is what you should do to prevent the spread of COVID-19:




• Clean your hands often. Use soap and water, or an alcohol-based hand rub

• Maintain a safe distance from anyone who is coughing or sneezing

• Don't touch your eyes, nose or mouth

• Cover your nose and mouth with your bent elbow or a tissue when you cough or sneeze

• Stay home if you feel unwell

• If you have a fever, a cough, and difficulty breathing, seek medical attention. Call in advance

• Follow the directions of your local health authority

• Avoiding unneeded visits to medical facilities allows healthcare systems to operate more effectively, therefore protecting you and others.


_________________________


7:30pm | This is a war - a time for survival

President Yoweri Museveni has repeatedly called the ongoing fight against the deadly coronavirus "a war". And he has not stopped short of calling this difficult period most of us are going through for the first time one of "abnormalcy" that calls for all of us to adjust our lives accordingly.

In his addresses to the nation on the coronavirus situation in Uganda, the President has sometimes drawn from his experiences in the Bush War to illustrate just how serious this crisis is.

Most importantly, he has voiced cautious optimism that Uganda will eventually win this war - but only if Ugandans abide by the measures enforced to curb the spread of a virus that has taken the entire world by storm.


A little later this evening, the President returns to speak to the nation on the latest developments around the coronavirus situation in the country.

Stick around for real time updates.