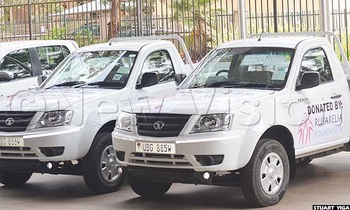 HEALTH VIRUS DONATION

KAMPALA - City tycoon Sudhir Ruparelia has responded to President Museveni's call for support in the fight against coronavirus in the country.

While addressing the nation on Wednesday, Museveni called upon able Ugandans to provide support as the country grapples with COVID-19.

The President made his preferences known. He requested donors who are willing to help in the fight to prioritize donating brand new double-cabin pick-up trucks, with four-wheel drive.

Museveni said with more cars at the health ministry's disposal, it will be able to execute its mandate during this critical time.

On Thursday, Sudhir and his family, through the Ruparelia Foundation, responded to Museveni's call by donating two brand new Tata Xenon pick-up trucks.

The vehicles were delivered by Amit Sachdeva, the chief sales executive of Ruparelia Foundation.

The fancy new vehicles were handed over to Prime Minister Ruhakana Rugunda.