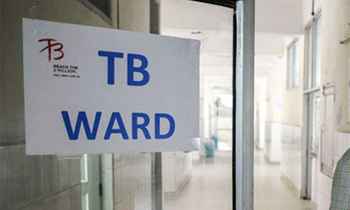 COVID-19 | TUBERCULOSIS

KAMPALA - Medical workers have expressed fear that tuberculosis numbers are likely to increase during this time of the coronavirus pandemic as many people living with tuberculosis might default on treatment.
"Since public transport has been restricted, patients may not go out to their health facilities for health care. We have many untested TB patients and this number may blow up in time, and when it does, the health system will be further burdened and TB will take a bad hit," said Dr. Stavia Turyahabwe, the Assistant Commissioner National Tuberculosis and Leprosy Division.
Turyahabwe noted that there is a high number of patients with TB, and if they are not on treatment, they are worried if they get Coronavirus, they would have severe effects.
"Hospital systems could prioritize treating patients with COVID-19, as opposed to other cases. So, care for TB patients, particularly for those who need hospital-based care may be marginalized due to the COVID-19 cases," said Turyahabwe.
Medical workers handling TB patients also called upon the public to stop circulating false information about the disease.
"We need to discourage the spread of messages that create a feeling of panic and stigma about TB because if we do not, the people that are infected or suspect themselves to be infected will not come forward for testing," said Dr Ivan Kimuli, a doctor at the government TB laboratory in Wandegeya.
Kimuli noted that this is the right time for doctors to tell the community that needs to test for TB to test, and those that need to start and stay on their treatment to do so because they have a higher likelihood of having a less severe infection if the immune system is supported with treatment.
Speaking to New Vision, Dr. Bruce Kirenga, from national Tuberculosis and leprosy division, said that the growing shortage of Personal Protective Equipment (PPE) will also greatly impact the TB control efforts as these are key components of the infection control package.
"We are calling upon all our patients to continue taking their medicines to safeguard themselves from adverse effects of coronavirus," said Dr Kirenga.
According to statistics, TB kills 4000 people daily, and 1.5 million people annually. It is the leading killer of people living with HIV/AIDS. An estimated, 10 million people developed TB in 2018, and nearly half a million people developed drug-resistant TB (DR-TB). In Uganda, 86,000 individuals fell ill with TB, with 1500 people suffering from drug-resistant TB. TB disease causes over 20 deaths each day.
"Transmitted through air, the disease can affect anyone, anywhere in the country, however, certain subpopulations have a much higher burden than others; slum dwellers, the elderly, mine workers, prisoners, HIV/AIDS and diabetic patients as well as smokers," said Dr. Winters Muttamba, a TB consultant at the Ministry of Health.
The public is encouraged to take the guidance on social distancing, avoid gatherings, washing hands, covering the mouth while coughing and sneezing always even without the COVID-19 to avoid the spread of tuberculosis.