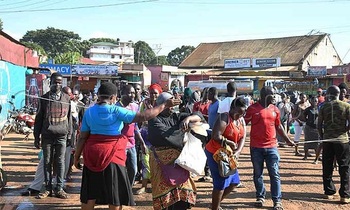 HEALTH VIRUS

KAMPALA - Buyers have overwhelmed management in Kibuye market along Entebbe Road as they struggle to maintain social distancing as demanded by Kampala Capital City Authority (KCCA).

Wednesday being a market day, hundreds of people turned up wanting to buy fresh food and fruits.

The management put ropes at various checkpoints to control entry into the market.

Everyone was being asked to wash hands and later line up for temperature check by the Red Cross team but the number of people entering kept on swelling.

At 9am, the management sounded a bell to signify lapse of three hours of the morning shift.

The traders who had worked early morning were told to wind up and leave to create space for others. Another shift was also allowed in.

A Red Cross worker said on a busy market day on Wednesday, Friday and Sunday, they clear about 8,000 people entering especially in the morning.

The Red Cross has a permanent tent at the entrance. Leaders were seen stopping children and people who accompanied others from entering the market to reduce congestion.

Market managers were heard warning that if buyers refused to control themselves, the market will be closed like others.