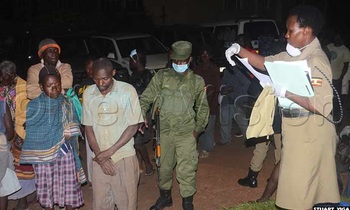 HEALTH SECURITY CURFEW

KAMPALA - The Buganda road Grade One Senior Magistrate Stella Amabilisi Odongo has charged and remanded over 200, people allegedly for defying the presidential directive on curfew that intended to prevent the spread of the deadly COVID-19 pandemic.

The accused comprised of a group of elderly men and women, people with disabilities and children below the age of 18, the majority of whom are homeless.

It is alleged that due to the overwhelming congestion of suspects at Kampala Central Police Station, Police made arrangements with the judiciary, to help them hold an emergency court session, purposely to reduce on the number of suspects who had been detained beyond the mandatory 48 hours.

The court kicked off late in the evening on Friday until late in the night. All the accused admitted to having committed the offence and asked for forgiveness.

However, the presiding magistrate said the condition in which she was operating could not allow her to look into the accused's requests since it was already late.

"As a person, I do not want to defy the presidential directive on curfew, you are therefore remanded to Kitalya Prison until April, 23rd, 2020, while the juveniles are remanded to Naguru remand home up to 23rd, April 2020," the magistrate ruled.

The magistrate also observed that a big number of the accused were homeless and they would easily contract the virus, if not kept in a gazetted place.

The prosecution side led by Edwin Amanya Mbabazi alleged that some of the accused committed the offense on April, 3rd, 2020, in Kampala.

He identified them as; Bernard Atoroti, Hassan Anguzu, Fred Walusimbi, Daniel Muwanguzi, Tonny Kaziba, Jamal James Alumai, Ben Aleper, Brenda Akako, Lily Aciro, Mary Nambi, John Paul Burusi, Isah Wapisa, Felix Nyeko, Gasi Madalema, Josephine Acen, Rogers Keyi, and Akram Mwanje, among others.

He added, "this should send a signal to the rest that at this critical moment, members of the public should refrain from defying lawful orders that have been put in place to curb the COVID-19 pandemic."