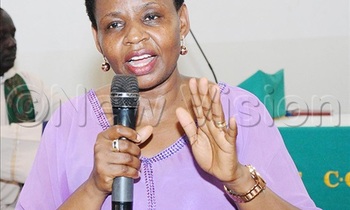 President Yoweri Museveni has officially unveiled Lt. Col. Edith Nakalema, the head of the Anti-Corruption Unit of State House, to deal with errant officers in the fight against COVID-19.
In his speech on Friday night, Museveni warned officers against mistreating people, especially in the enforcement of the curfew directive.
He also warned crime preventers against taking part in the security operations.
"Then we have some crooks as usual," Museveni said. "Crime preventers should not involve themselves in our system."
"If you have not been called upon, don't involve yourself in this exercise. Okwetumikiriza must stop," the President added.
He also said Nakalema will be available to receive complaints about unruly RDCs.
In a tweet on Saturday morning, the President emphasised: "Last night, I announced that the public can report erring security officers/law enforcers to Edith Nakalema, especially those unnecessarily harassing our people during this lockdown and curfew."
"The numbers to call are: Toll free: 0800202500, WhatsApp: 0778202500, SMS: 0778202500."
The President clarified that curfew does not mean being in the house.
"It does not mean staying indoors. Home means in the house, on the veranda and in the compound. But do not visit the hood, don't walk on the roads, don't go to the bar," he said.
Sigh of relief
Responding to the President's tweet, Robert Mugarura said: "Thank you my President for the parental heart and approach to the situation."
Another tweeter user, Shafick Odaga, said: "Salute u Mr. President. Tough times never last, but tough people do. I hope they the LDUs also have name tags on their uniforms."