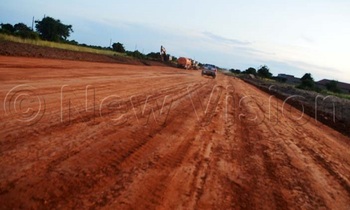 UNRA | ROADS CONSTRUCTION

Chongqing International Construction Corporation (CICO) has halted road works along Hoima-Butiaba-Wanseko road.

CICO has been constructing the 111 km road costing $179m, one of the critical oil roads under the Uganda National Roads Authority (UNRA).

This followed the presidential directive of camping workers of companies and factories at their workplaces to avoid daily movements to work and back home. He, however, allowed UNRA works to continue.

Speaking anonymously, one of the drivers attached to Buliisa CICO camp, explained that their bosses said it will be so expensive to construct tents for their workers to enable them to sleep at their working places.

He said they were told to stay homes for 14 days but given a condition of traveling to their camp for lunch every day so that they can be marked as present in order to be paid a full salary at the end of the month.

He narrated that during lunchtime, they converge in big numbers at the camp, which is not safe because they can acquire the virus during that time.

However, the human resource officer CICO, Asumani Mugegere insisted that they are still working normally as the President allowed them, but just did some regulations in their daily activities.

Mugegere added that there are some other arrangements in place being handled by the Resident District Commissioner(RDC) and even some tents have been set in Kigorobya CICO camp for workers to stay in.

The RDC, Amos Asiimwe explained that officials from CICO informed him that they have left only 25 vehicles including trucks and small cars to operate on the road.


Asiimwe said CICO is suggesting to get some schools where the workers will converge to be picked in the morning and dropped in the evening after work and they go to their places of residence.
He added that they are still discussing with UNRA officers to find a way out.

However, road works have been going on well from Buliisa town council proceeding to River Waiga bridge and they were mainly grading and applying marram extracted from Uribo village in Ngwedo sub-county.

The UNRA spokesperson Isaka Ssali clarified that there is no suspension on any UNRA projects, they will keep on working normally.