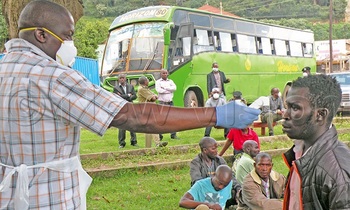 KABALE- Habitual drunkards in Kabale district are hindering the implementation of President Yoweri Museveni's guidelines against the spread of COVID-19.

Patrick Besigye Keihwa, the Kabale district LC5 chairperson, said when the President issued a directive to close bars, some patrons in Kabale retreated to informal drinking places commonly known as bufunda, while others lock themselves up in bars and drink from inside.

"We have been conducting operations to implement the presidential directives. Whereas the big bars and night clubs closed, some bufundas continued operating illegally. And whenever the security teams would bust such people, they would argue that they were not more than 10 and should be allowed to drink in shifts," Keihwa said.
He added that another challenge they encounter comes from some Christians who want to continue with their fellowships even when going to church was suspended. "The church leaders should help us to sensitise their people that we shall not hesitate to deal with those found worshipping from homes in large groups. Our people need to understand that the war we are in is beyond our own making and thus needs to be handled with seriousness," he said.
Museveni on March 18 ordered the closure of schools and suspended religious gatherings in an attempt to prevent the spread of the coronavirus.

He ordered the closure of night clubs, bars and suspended concerts as well as religious gatherings. Since then, various operations have been carried out in the country to ensure that the presidential directives are implemented.

In Kabale, a task force against the coronavirus was formed to identify cases in communities and provide guidance and counselling services to the affected families.
The task force is headed by the Kabale Resident District Commissioner, Darius Nandinda, assisted by the district chairperson, Patrick Besigye Keihwa.

Nandinda said the porous border with Rwanda was proving to be a challenge in fighting the disease.

"When this disease broke out, some people started running from Rwanda to Uganda through the various porous border points, putting us at a risk. Even after the President declaring the border closed, some people kept coming in," Nandinda said.

A total of 95 people who had travelled from Rwanda after the border closure were on Friday quarantined at Kirigime Guest House in Kabale municipality, after consultations between the district team and the Ministry of Health officials.
Nandinda said some residents had accessed the hotel where travellers had been quarantined.

"We are investigating allegations that some hawkers entered the hotel to sell merchandise. If it is proved, we shall summon all officers who were on duty to explain where these people passed," he said.

Dr Alfred Besigensi, the acting district health officer, said they had not yet received any serious case for isolation at Kabale Hospital.

They are also considering acquiring another isolation unit at Rushoroza Health Centre IV when need arises.

"We have been receiving calls from people about suspected cases but upon serious screening, we find them not worthy of isolation but our teams are on the ground," Besigensi said.

Authorities also banned street vending. "It is hard to enforce handwashing among street vendors because they do not keep in one location," Ssentaro Byamugisha, the Kabale mayor, said.