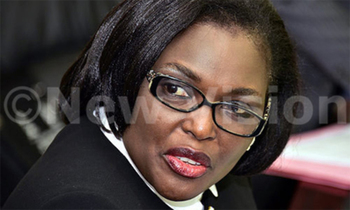 LAND WRANGLES CRIME JUSTICE

KAMPALA - Court has ordered the Government to pay sh50m in damages to three businessmen, who were halted by the Land Inquiry Commission from accessing their land in Kyengera, Wakiso district.

In 2018, the Lands Inquiry Commission chairperson Catherine Bamugemereire directed Moses Kagga Bbira, Faisal Serunjogi, and Jamiru Lubega to stop interfering with the land, following a complaint by Safina Namutebi, who claimed ownership of the land.

The commission further ordered that Namutebi repossesses the disputed land.

However, Justice Andrew Bashaija Monday ruled that the Land Commission of Inquiry into land matters has no powers to interfere with matters already subject to proceedings before courts of law.

"It is a finding of this court that the Commission of Inquiry overstepped its mandate. Therefore, its wrongful decisions in regard to this matter are hereby quashed and the Land Commission or its agents are prevented from further acting in contravention of the law and ultra vires its mandate," the Civil Division of the High Court head, ruled.

According to the judge, the Land Commission had no powers to make orders that Namutebi repossesses the disputed land yet she filed in court, claiming ownership of the same land.

"Nowhere in the provisions of the Commissions of Inquiry Act is it empowered to make decisions or issue orders with the effect of granting remedies that a party has failed to obtain from the court as was the case in this matter.

There is also nothing like hearing and reaching judgments in respect of complaint brought before it and whatever it did in this matter was a nullity" Bashaija noted.

"Given the proof of damages suffered as adduced in evidence by the applicants, court awards costs and sh50m in general damages to them. It shall attract interest at court rate per annum from the date of this ruling until payment in full," he ruled.

The judge ordered Government to pay costs of the suit, noting that acting outside the preview of the law especially in matters which are already before courts of law should not attract sympathy from courts of law.

Bashaija accused the Land Inquiry Commission of failing to accord the trio a fair hearing, contrary to the rules of natural justice.

The trio's lawyer Luyimbaazi Nalukoola commended the court for its ruling, saying "This is a good decision because I tried to bring out all those illegalities before the Commission but they instead threatened to close my chambers."