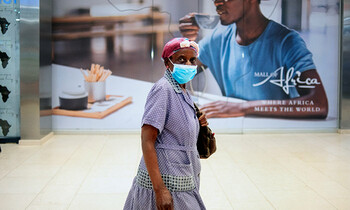 Here are the latest developments in the coronavirus crisis:
- Pope calls for global ceasefire -
Pope Francis joins UN Secretary General Antonio Guterres's appeal for an "immediate global ceasefire".
Pope Francis
- Getting worse in Spain -
Spain tightens measures, ordering a halt to all non-essential activities and telling workers to stay home for two weeks.
The country has the world's second-highest toll and confirmed another 838 deaths in the last 24 hours, a new daily record.
The number of confirmed cases reached 78,797 on Sunday, a one-day increase of 9.1 percent.
- Trump back-flips on New York lockdown -
Some eight hours after stunning the New York metropolitan region with a proposal to place it under quarantine, US President Donald Trump decides against imposing a broad lockdown.
His reversal comes on the same day as the US death toll tops 2,100, more than doubling in just three days. Of the fatalities more than a quarter are in New York City.
The US has the most confirmed cases in the world.
Donald Trump - USA President File photo
Health authorities urge residents in the states of New York, New Jersey and Connecticut to refrain from non-essential domestic travel for 14 days.
- Food coupons -
Italy announces it will send food vouchers to those who cannot afford groceries.
- Death toll passes 31,000 -
At least 31,412 people have died worldwide from the coronavirus some 22,260 of those in Europe since the epidemic started in China in December, according to an AFP tally compiled at 1000 GMT Saturday based on official sources.
With 10,023 deaths, Italy alone accounts for almost a third of the world death toll.
The next countries with the highest official deaths are Spain (6,528), mainland China (3,295), Iran (2,640) and France (2,314).
- Hunkering down -
In a leaflet being sent to more than 30 million households in the UK, British Prime Minister Boris Johnson warns "things will get worse before they get better".
The government says the lockdown could last a "significant" time, as infection rates spiral and the death toll passes 1,000.
Russia, which has not imposed a full lockdown, will close its borders on Monday and next week will be a week off from work.