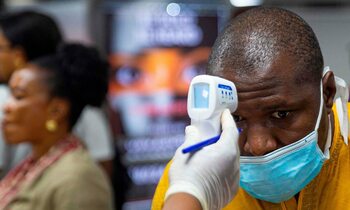 President Yoweri Museveni says the measures taken such as the suspension of public transport will help defeat the virus. File photo
CORONAVIRUS

More four people have tested positive for coronavirus bringing the number of the cases to 18.

According to President Yoweri Museveni, on Thursday, another 197 people were tested and many of them were returnees from Dubai or other category one countries. He says out of these, only 4 tested positive, adding that the 4 had been under institutional quarantine in the various hotels identified by the sub-committee on quarantine.

He says those who tested positive have been evacuated to Mulago Hospital for treatment.

He says the efforts of identifying by temperature monitoring at the airport, quarantining the people on whom there's some suspicion and tracing the ones who escaped from the quarantine is working well.

He says the majority of the 14 people who are hospitalized at Entebbe, Mulago, and Masaka with the virus are responding well to the treatment and seem to be improving.
Uganda has taken a number of measures to control the spread of the diseases, including the closure of schools, markets, bars, and suspension of the public transport system.
The suspension of the public transport system took effect on Thursday and bus parks as well as taxi parks were empty as well as roads since all public service passenger vehicles were grounded and the drivers who defied the directive were arrested and their vehicles impounded.
More than 500,000 people around the world have now contracted the new coronavirus, overwhelming healthcare systems even in wealthy nations and triggering an avalanche of government-ordered lockdowns that have disrupted life for billions.
In the United States, more than 83,000 people have tested positive for COVID-19, edging out Italy, which has reported the most deaths, and China, where the virus was first detected in December in the metropolis of Wuhan.
The US has recorded 1,178 deaths, while the global death toll stood at 23,293.