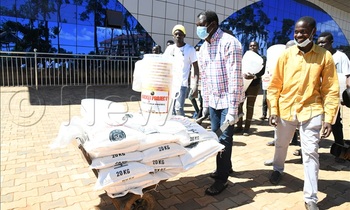 Pastor Robert Kayanja before the distribution of the items. Photos by Roderick Ahimbazwe
CORONAVIRUS PASTOR KAYANJA

In a bid to bolster efforts against the spread of the novel coronavirus diseases (COVID- 19), Pastor Robert Kayanja of Miracle Centre Cathedral has launched a philanthropy drive to distribute basic necessities to the most vulnerable families.

The charity campaign dubbed a 'bucket project' in which 5.1 metric tons of maize flour, bars of soap, Dettol, sugar, and rice will be given to at least 500 homesteads daily for the next 30 days will begin Friday in Kisenyi, a slum in Kampala.

"The war is now at our doorsteps and I want to thank all those that are supporting efforts against the enemy but this is the time to think about the most vulnerable among us. We are all in this and if we don't save the needy ones, who knows you might be the next in line," Kayanja told journalists yesterday.

He added: "The President has been very clear, we need to be hygienic and stay at home but our society has a person that don't have the basics to wash hands and that's what the bucket project is here for.
Our children are at home but if a parent can't afford sugar and flour, the child will loiter around for food that's why we are giving items to those that need them to assist them in the 30 days we are supposed to be home."

Kayanja used the platform to call upon all able Ugandans to donate whatever they can to the needy during this time of crisis arguing that, "I might afford soap and rice but if my neighbor doesn't, they will bring the virus to my door in search for food so let's all get working.
For individuals and organizations that want to do a similar thing, our ministries can train you on the best distribution model but we also appeal to traders not to hike prices of commodities as their way of giving back to the community."

He also called upon Government to consider a total shut down of public transport if the fight against the rapid spread of COVID-19 is to be curtailed.

He argued that a shutdown of public transport would effectively contain unnecessary movements to allow authorities to identify COVID affected people and isolate them from the public to avoid further spread.

"A total shutdown of public transport can save almost 50% of this country from the COVID spread. I appeal to the President to give all people that use that kind of transport at least a two days ultimatum to travel either upcountry or to urban centers if they want which can be followed by a total shutdown for at least 14 days to help identify infected people because the movements will be minimal," said Kayanja.

President Yoweri Museveni in his fourth nation address on Tuesday said he is monitoring the public transport system on whether they are enforcing guidelines like passengers washing hands, stopping those with cough and flu from boarding and overcrowding.

Authorities this week ordered 14 seater commuter taxis to reduce passengers taken to only 8. Uganda has so far recorded nine cases of Coronavirus, all Ugandan nationals who travelled from Dubai and the United Arab Emirates.

The World Health Organization (WHO) has expressed concern that poverty and lack of facilities such as health care and proper public transport might fuel the spread of COVID-19.