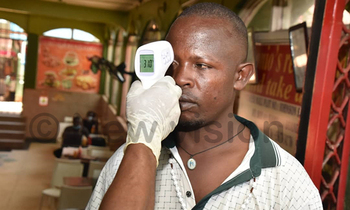 CORONAVIRUS

The Ministry of Health has announced that five more people have tested positive for the coronavirus in the last 24 hours.

This brings the total number of cases in Uganda to 14 after nine had been identified previously.

According to Dr. Henry Mwebesa, the Director-General of Health Services, one case was a 63-year-old woman who had returned from Europe and is a resident of Najjanankumbi, another case was a 57-year-old man, who deals in salt at Uganda- Sudan border of Elegu.

The third case was an 8-month-old baby in Iganga, whose father returned from Kisumu, Kenya recently.

The other two cases are the Chinese who had escaped from quarantine and tried to cross to DR Congo.

The officials said the patients at Entebbe Hospital are in a stable condition.