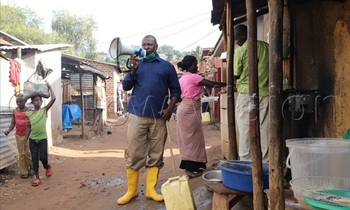 CORONAVIRUS

As the country grapples with the spread of coronavirus, whose patients have increased from one to nine in the last two days, the government has put measures such as the closure of airports, borders, markets, and bars.

The local leaders have also taken the battle down to the grassroots. For example, Gonzaga Yiga, chairperson of Kansanga Kiwafu Zone 'B' in Makindye, Kampala started a village sensitisation call every morning and evening.

He reminds his people to wash hands, keep their homes clean and follow all the guidelines the Ministry of Health has put in place to prevent COVID-19.

Yiga moves door to door and ends up on the tallest building in the area where he communicates through a hand-held speaker to remind residents about the pandemic.

"We are worried about this pandemic. We call upon the Ministry of Health to help us with equipment such as sanitizers and temperature guns to screen the people in the village," Yiga said.

He added that his village committee was putting the President's directive into effect. "We have told parents to keep their children at home."

The President last week closed all schools and three days later, urged students to keep at home to avoid getting in touch with people who had coronavirus and spreading it.

"We don't want anyone visiting our village during this time. We have told all the landlords to report to us if they see anyone new in the village. Everyone should remain where they are," he warned.

We should be vigilant, report anyone who has any signs of coronavirus to the authorities, you're your hands with soap and stay in your homes. Avoid moving unnecessarily, avoid handshakes.