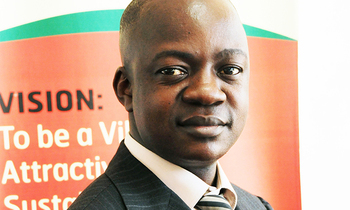 Over 70 bars closed in Kampala
Over 70 bars have been sealed off in an operation mounted by KCCA and the police in Kampala.
This was done to enforce Directives issued by the President in fighting the deadly COVID 19 caused by Coronavirus.
Kampala Capital City Authority Spokesperson Peter Kaujju says that the operation will go on during the day and at night.

……………………………………………………………………………………………………

Gen. Tumukunde applies for bail

Jailed former security minister Gen. Henry Tumukunde has applied before the High Court to be released on bail so that he commences his countrywide consultations in preparation for the 2021 general elections.
Tumukunde has so far spent 3 days in Luzira prison on charges of treason and unlawful possession of firearms and ammunition.


In the application, Tumukunde wants to be released on bail on all charges against him.
He says that he is a presidential aspirant for the forthcoming general elections and submitted his notification to the Electoral Commission and if not released on bail he won't be able to carry out countrywide consultations.

Tumukunde has also said he is of advanced age 61, has a fixed place of residence in Upper terrace Kololo, married to Stella Tumukunde and the sole breadwinner of his family of 7 children and that the offences are bailable since he is still presumed innocent.

Through his lawyers of Wameri and Co. Advocates Tumukunde says that he is not a flight risk, has no likelihood of interfering with investigations and prosecution witnesses, will abide by all terms and conditions set by the court.

Court registrar Mary Kaitesi has not yet allocated or fixed a hearing date for his application.

The state alleges that Tumukunde is said to have uttered words calculated to instigate the Republic of Rwanda to invade Uganda and cause an unlawful change of government.

The prosecution says Tumukunde was found in illegal possession of an AK47 and a pistol with no valid firearm licence which charges he denied noting that he is a retired General who is entitled to hold guns and ammunition.

……………………………………………………………………………………………………………………………….

Students worried about the closure
A section of students at Nkumba University is worried that their studies have been disrupted by the government directive to close universities to control the likely spread of coronavirus.
Students going home after schools were closed
The university has closed for 30 days today in line with the presidential directive.

Some students said they have been inconvenienced because lecturers asked them to submit their course work before leaving the university yet they were supposed to submit next month.

……………………………………………………………………………………………………………

Bank of Uganda engages banks over coronavirus

Bank of Uganda has started engaging mobile money operators to reduce transaction charges to limit cash transactions to prevent the spread of coronavirus.

In a statement released by the bank governor Emmanuel Tumusiime Mutebire, they are engaging banks and telecom operators to cooperate in the fight against the virus.

The central bank has put in place measures to ensure the efficiency of financial institutions it supervises and including contingency plans for the safety of customers, providing exceptional liquidity for commercial banks for the next 1 year for those who may require accessing it among other measures.

………………………………………………………………………………………………………………………….

Judicial officers welcome Justice Kakuru's judgment

The Uganda Judicial Officer's Association has welcomed the Constitutional Court's judgment that the Judiciary budget should not be allocated through the Justice and Constitutional Affairs Ministry.
Justice Kakuru
Five justices led by Justice Kenneth Kakuru ruled from the petition filed by the Uganda Law Society against the Attorney General, that it was unconstitutional for the Judiciary to be reduced to a mere government department, yet it is an independent organ of government.

UJOA's Vice President Sheillah Atim says the independence of the judiciary will be visible once the judgment is enforced.

……………………………………………………………………………………………………………

Episcopal conference backs Museveni on coronavirus

The Uganda Episcopal Conference has directed bishops to enforce the presidential directive to control the spread of coronavirus.
President Yoweri Museveni
The chairperson Dr. Joseph Anthony Zziwa says believers should embrace handwashing among other proper hygiene practices as directed by the president and the ministry of health.

Dr. Zziwa adds that prayer is also key to ask God to save people from the pandemic.

………………………………………………………………………………………………………………….

Parliament reduces journalists
Parliament has reduced the number of scribes reporting at the house to control the spread of the Corona Virus.

On Friday, the Speaker of Parliament, Rebecca Kadaga, issued guidelines that will govern the operation of Parliament during this period in which she ordered to reduce the number of people accessing Parliament.

The Directorate of corporate affairs has listed 51 journalists out of 250 to cover Parliament.

Some scribes who said the move will affect many of them because they are freelancers who are paid per story.