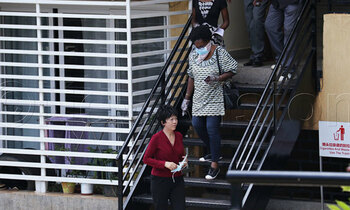 The Chinese being led by the Police
CORONAVIRUS

The Chinese embassy has responded to media reports that 10 Chinese nationals had bribed there way out of the quarantine at Entebbe Airport.

In a message sent to New Vision on Friday evening, the embassy says the place where they were found was a certified isolation centre.

"Embassy wishes to state that the Red Sun Inn in Naguru has been a certified institutional quarantine centre for COVID19 by the Ministry of Health since March 18," the statement said.
According to the embassy, a total of 14 Chinese nationals, after regular immigration and scanning process, were put under institutional quarantine in the Red Sun Inn, from March 18, with the approval from the Ministry of Health and with Ugandan police stationed there to affect the quarantine.

The statement says the Ugandan Authorities, including the Ministry of Health and Uganda Police, doublechecked with the situation of these 14 Chinese nationals on Friday and were pleased to leave them that way.

"It is important to note that there are three categories of guests currently in Red Sun Inn, apart from the 14, there are regular long-time guests, and those on self-quarantines," the statement says.

The embassy adds that all relevant Chinese citizens have gone through regular immigration and scanning processed before entering into Uganda via Entebbe International Airport.