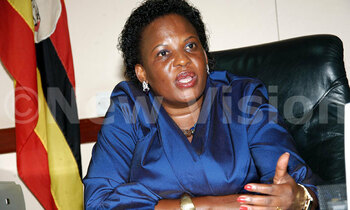 CORONAVIRUS
Over 70 bars in Kampala city were shut down by Kampala Capital City Authority (KCCA) following President Yoweri Museveni's advisory on the Coronavirus (COVID-19).
Several revelers who did not observe the directive were last night forced out of the bars by KCCA enforcement and police and the bars were sealed off until the 30 days deadline.
All bars which the New Vision, visited had been sealed off with a KCCA seals and owners were warned not to open their premises or else they lose their licenses.
City dwellers who had convened to enjoy their week were caught up in a confusion which left many running off to hide.
Some of the bars which were sealed off include Ivy's , Billionaire Club, Stake, Saako, Top pub, Lapalis.
The operation was led by KCCA Environment Officer, Peter Sitenda who said: "We are not shutting down your bars in bad faith, but we are following Museveni's directive on COVID-19.
When the New Vision checked out, most of the bars in downtown Kampala had KCCA seals.
On Thursday, Kampala minister Betty Amogi re-emphasized that KCCA will move to implement Museveni advisory in which all bars, markets, schools were told to shut down in order to reduce the potential of spreading the virus.
KCCA director of public and corporate affairs, Peter Kaujju explained that the move to have all bars and markets shut down will go on as was directed.
"We shall continue with the operations of shutting down bars and other places like open markets, as we follow the move of protect our people in the city," Kaujju said.
He, however, explained that bars with restaurants will only have the bar areas sealed off but the restaurant will remain open in order to allow people enjoy their meals.
Bars in Kabalagala, Bugolobi, and Muyenga, among other, had defied the decree and continued with business as usual.

The look on the visibly exhausted faces of the partygoers in these bars was that of a wrongdoer caught in the act. Some tried to run away from the law enforcers but, because of their tired knees, it was hard to even approach the entrance. KCCA locked the bars with seals.

According to Setenda, no arrests were made, but if more bars continue to operate within 32 days, the owners will face prosecution.

"We are going to continue carrying out these raids, even tonight until we ensure that everyone is complying," Sitenda cautioned

Elsewhere, in Kiwatule, Namugongo, Naalya, and surrounding areas, a few bars were still operating by last night.