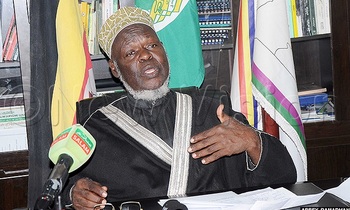 HEALTH VIRUS RELIGION

KAMPALA - The Mufti of Uganda Sheikh Shaban Ramadhan Mubajje has told Muslims to pray from home for the next 32-days starting Friday to avert the spread of coronavirus pandemic that has greatly hit and threatened the entire world.

Mubajje has also instructed Muslim leaders to commence Qunut prayer, a special supplication recited by Muslims during difficult situations.

The special prayer reads, "O Allah! Guide me with those whom You have guided, and strengthen me with those whom You have given strength, take me to Your care with those whom You have taken to Your care, Bless me in what You have given me, Protect me from the evil You have Ordained."

Addressing the media at Uganda Muslim Supreme Council (UMSC) headquarters on Thursday, Mubajje ordered all Muslim leaders in the country to follow the Presidential order without fail.

"I urge all Muslims across the country to comply with the guidelines issued by President Yoweri Museveni during his address to the nation on Wednesday because they were made for the good of our health," Mubajje said.

Adding, "If you abide by the directives, we shall be able to manage this pandemic which appears not be more deadly than Ebola which we ably managed."

Mubajje noted that communal prayers will resume immediately after systematic government analysis on the situation.

"For now, Juma and other communal prayers should be conducted outside Mosques and in a group of not more than 10 people. Allah encourages us to avoid danger and we should comply. It is not only here in Uganda but also in Saudi Arabia and other Arab countries," Mubajje said.

He, however, said public calling for prayers should continue to remind Muslims time for respective daily prayers.

"Imams, however, should ensure that people do not converge for prayers in the Mosques," Mubajje noted.

The Mufti supposed that the pandemic could have been provoked by God because of moral decay and that can only be cured by serious prayers.

Mubajje said although communal prayers are encouraged in Islam, it is not against the Islamic teachings to suspend them during danger.

"Although we like hugs and shaking hands, let us put them on hold for now," Mubajje said.