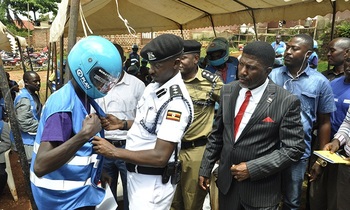 TRANSPORT

About 920 boda boda cyclists from the five divisions of Kampala have received training on transport regulations and road safety. Thereafter, 250 cyclists received free helmets and reflector jackets.

The training that was held at St. Paul's Church of Uganda, Okuvu in Kinawataka, was conducted by Plan International Uganda in partnership with Uganda Police and ministry of works and transport.

In the training, the cyclists were equipped to observe all the road signs, traffic lights, and road markings among others.

The cyclists were also trained in the best way to wear a helmet, how to handle customers and why they should use moderate speed.

Norman Musinga, the traffic commander for Kampala Metropolitan, said if all the rules are observed, this would mean that most boda-boda accidents will be reduced.

According to Musinga, most accidents happen because some boda boda cyclists are not trained, they are not informed and also some are just naturally reckless.

He noted that data from the Department of Traffic Police indicates that in 2019, 900 people died in boda boda accidents in Uganda, with many incidents recorded in Kampala, Wakiso and Mukono districts. Out of the 900 incidents, 457 were passengers (241 males, 159 women, and 61 children).

'Police also observed that 80% of the accidents are caused by boda boda riders. Many violate traffic lights rules, ride along one-way lanes, ride on pavements, make unnecessary U-turns, park in the middle of the roads, ride recklessly, ride when drunk, while others do not have enough rest, among others," he said.

According to Musinga, many ride while listening to music through earphones, others chew marijuana and drinking alcohol sachets. "How will you concentrate on hearing the hoot behind you? Some load many passengers and even luggage that is meant for vehicles," he revealed.


Musinga added that in 2019, police arrested 4,532 boda boda riders who had loaded more than one passenger. For those riding without permits, police arrested 1,673 cyclists. Those arrested without helmets were 1,735. Drunk riders were 157, those who park in wrong places were 3,189 and those who over speed were 21.

He warned cyclists noting that if we are to have an accident free Uganda, police will not listen to any excuse. "We are going to be arresting all wrongdoers and we send them to courts of law. So to be secure, all the cyclists must follow the law and be conscious when doing their work," Musinga said.

Assistant Superintendent of Police (ASP) Myers Byonanebye, the Officer-in-Charge for Kinawataka, advised the cyclists to practice what they have trained.

"If you don't teach others, they will continue making mistake and the general public will perceive it that all boda boda cyclists are bad," he advised.

Ronald Balimwezo, the Mayor for Nakawa Division commended the partners who trained the cyclists noting that the boda boda industry is going to improve in Kampala.

Balimwezo said as leaders, they are going to work with police to ensure that they fish out all those wrongdoers who make the boda boda industry seem bad.

Irene Namuyiga, the road safety engineer for KCCA advised the cyclists to stop riding on the pavements because it causes a lot of damage.

"You break them yet the country invests a lot of tax payer's money to create them. observe the traffic lights and also respect pedestrians, because they also have a right of way," she said.

Namuyiga also advised cyclists to take care of their families. "We have heard many complaints that boda boda cyclists do not take care of their families. This is wrong. Why then should you wake up every day to go to work," she asked.

Casiano Kansiime, the program manager for Plan International Uganda said Plan Uganda with funding from the government of Denmark (DANIDA) implemented the safe and inclusive cities project for young men and women.

According to Kansiime, in Uganda, the program is implemented by a consortium of partners including ACTogether Uganda, Uganda Youth Development Link with Plan Uganda and the lead partner in five divisions of Kampala.