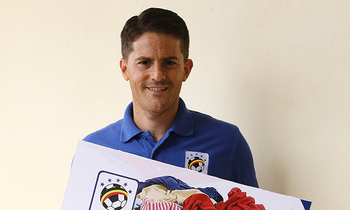 Uganda Cranes head coach Johnathan McKinstry believes CAF took the right decision to postpone the Total Africa Nations Championship that was slated for next month in Cameroon.

The Irishman believes that however much the decision has affected their preparations which were in full gear, life is more important than anything else in such a period when the coronavirus has hit the world severely.

"The postponement of the tournament has greatly affected us considering the way we had prepared ourselves. The players had ready-prepared themselves for the action but I believe it was a right call to have it extended because at the moment life is more important than anything else," McKinstry said.

On the same note, local football governing body FUFA has called off the training and players sent back to their respective clubs.

The development was confirmed by FUFA CEO Edgar Watson Ssuubi during the weekly press conference at FUFA House, Mengo on Wednesday.

"Following CAF's decision to have CHAN postponed, we were forced to suspend the national team camp and players have been requested to return to their clubs," Watson said.

Watson went ahead to urge the football fraternity to stay vigilant, follow all the instructions put in place by the World Health Organisation (WHO), Ministry of Health and FIFA in regard to Covid_19.

"We, therefore, urge our football fraternity to remain vigilant, follow all guidelines of World Health Organisation (WHO), Ministry of Health and FIFA in regard to the Pandemic," he added.

With the deadly coronavirus continuing to spread like a bush fire, CAF on Tuesday announced the postponement of the tournament until further notice.

Uganda is one of the 16 nations that made it to the finals in Cameroon and had been placed in group C with defending champions Morocco, Togo and neighbours Rwanda.