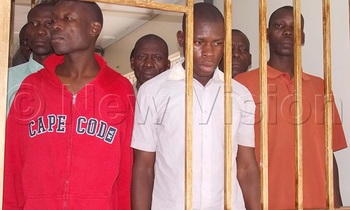 CRIME JUSTICE MURDER RELIGION

KAMPALA - Prosecution in the murder case of Sheikh Masuudi Mutumba has told the court that the man who last week admitted murdering the latter was helped by other suspects.

Last week, Biasaali Mugoya, 40 appeared before the General Court Martial (GCM) chaired by Lt. Gen. Andrew Gutti and was charged with murder. He pleaded guilty and admitted doing the same.

During his confession, Mugoya, a senior supervisor with SGA, a security company based in Naguru, a Kampala suburb said he killed the sheik alone without anyone's help.

"Sheik annoyed me a lot that I could not let him live, so I killed him without anyone's help," he said.

He was charged with his co-accused, James Balidhusa Mugoya, 34, a Local Defence Unit officer, Amos Kojja, 50 and Sulaiman Konta, 52.

Others are Charles Mwandha 40, John Henry Jagenda 28, Ashraf Mugoya 20 and a security guard with Harsh Security Company Alex Mugoya alias Waiswa.

As Mugoya pleaded guilty and confessed, his co-accused denied the charges.

However, reading the brief facts for the court on Monday, the prosecution led by Maj. Rapheal Mugisha, said the other co-accused helped Mugoya to execute the murder of Mutumba.

"On his arrest, Ashraf confessed and revealed that he participated in the Mutumba's murder with his associates Mugoya, Balidhusa, Kojja, Konta, and Mwandha, Jagenda, Waiswa, and others still at large," Mugisha told the court.

But Mugoya, who earlier admitted for slaying the sheik, insisted that he did it alone, without any assistance of the co-accused as the prosecution alleged.

"I strongly agree that I killed Sheik Mutumba, but the prosecution brief facts are false. I was not with anyone during the murder and nobody helped me," Mugoya said.

In response, the prosecution insisted that their brief facts were true saying other suspects helped him to execute the sheik's murder.

"My lord, if he is not accepting the brief facts, then let him change plea and we bring witnesses," Mugisha said, adding that investigations in the matter are done.

This prompted the court chairman to change Mugoya's plea and adjourned the case to March 31, 2020.

"Since he, Biasaali is not agreeing with the brief facts, we are entering a plea of not guilty," Gutti said as he adjourned the case.

The prosecution alleges that the accused and others still at large on February 14, 2020, at Lwemba trading centre in Bugiri district with malice, aforethought murdered Mutumba using a submachine (SMG) UG POL 13283692, the said gun being ordinarily the monopoly of the Defence Forces.