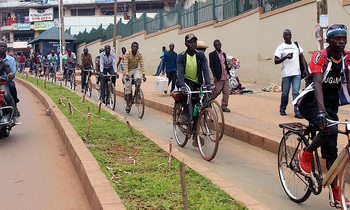 OPINION


For the last few years, Kampala has been busy with road infrastructural expansion and improvement projects. Some have been welcomed with total excitement while others with pessimism. The city seems to appreciate the importance of a functional urban mobility system in a city, a capital at that, although it all, still, is clearly disjointed planning.

For some projects, from planning to their implementation, it has been rather easy compared to others.

It hasn't been easy with the pilot Non-Motorized Transport (NMT) project. But it has never been easy in any car-centric city. Kampala took a bold step to plan for and implement its first real project with provision for pedestrians, bicycle riders, green resting places and motorists in what I would call Kampala's busiest and crowded zone.

In that zone, the road space clearly belonged and still belongs to the pedestrian amidst hostility from motor vehicles.

According to Eng. Andrew Kitaka, the acting executive director of Kampala Capital City Authority (KCCA), NMT/active mobility users had been forgotten in planning and design of road space, and the authority realized that that had to change.

While launching the project in February last year, Kampala Lord Mayor Erias Lukwago said the pedestrian in the city deserves better and attractive walking facilities.

Uganda's non-motorized transport policy, which was approved in 2012, emphasizes the need for the provision of safe facilities for active mobility users, particularly, pedestrians, cyclists and people with reduced mobility. So anything being done in that regard is ideally, that policy being implemented, although several municipalities are yet to know a thing about it.

According to a survey conducted in 2010 along Bombo Road, in Kawempe division, 80% of the respondents wished to ride bicycles but hesitated for their safety. 80% of these did not like to ride in mixed traffic, and preferred segregated bicycle lanes.

Also, a study conducted by ROM Transportation in 2012 indicated that 60% of Kampala's daily commuter population walk to work, but without safe and good quality facilities. Even without this survey, it was and still is very obvious even to a first-time guest that our walking population is huge, and therefore deserve better. And Kampala went ahead to design and implement its first NMT pilot project downtown.

Worldwide, the business and public transport hubs usually have a huge pedestrian population. These zones, if unplanned, will have through traffic motorists who have no business to do with the zone but simply use it to access other areas outside it.

This trend, unfortunately, destroys the quality of public space, poses a road safety challenge, and affects the air quality and business performance in general. It always results into traffic chaos, which makes such zones unattractive and inefficient, although seemingly busy.

Kampala's pilot NMT project has attracted local, regional and international attention. It has been rendered ambitious, impossible, great, smart and undesirable all at the same time; right from its inception.

As earlier indicated, this has been the case worldwide when it comes to planning to reclaim public space. Such plans are normally received with fear of the unknown from the general public and selfishness from motorists, particularly in a car-centric city like ours.


Please don't mistake this for any other city; it's my city, #Kampala! 😎 pic.twitter.com/5eX5CX9pnu

— Amanda Ngabirano (@mandyug) March 15, 2020

The new Namirembe road-Luwum street stretch speaks volumes not only about Kampala's respect for all road users, but also the unity of the technocrats, politicians, business owners and public transport operators.

I recently had a chat with Mayambala Mustafa, chairman of Uganda Transport Development Agency (UTRADA) and all I expected was for him to, sadly, share with me how worse the situation has become for the taxi operators and drivers entering and exiting the taxi parks.

I was surprised to hear him say that they now flow even better than before. He admitted that they panicked because they didn't know how it would turn out. He further mentioned that sometimes we have to accept change because it is part of life and development. The thing about this particular change and development though is that the pedestrian numbers have not just been introduced in downtown Kampala.

The change is that the city authority and government of Uganda has realized that that a huge population is human too and ought to be provided for and prioritized. This investment is a perfect example of inclusiveness and relevant planning - investing where the demand already exists.

With increasing travel costs, obesity (due to lack of physical activity), traffic congestion, air pollution and deterioration of the quality of public space, any smart city ought to learn a thing from Kampala. Although we still have our challenges, (just like most cities do), for instance, inadequate public transport and poor road user behavior, our city got this one right.

The world is admiring Kampala, at least via social media; not because we are the best at planning for pedestrians and bicycle riders, or that we have the best active mobility facilities; but because the city was bold enough to do what most cities are able to do easily, but can't do, and yet should do for the future of urban mobility.

When I shared via Twitter an image of Kampala's segregated bicycle lane along Namirembe road, although it is still work in progress, the reactions were both encouraging and challenging. Here are some of the reactions I found encouraging:

@SRDorman: Kampala beating Edinburg hands-down

@AnnetMWakabi: It is great that there is provision for cyclists and pedestrians. Hope this can be done across all streets #Kampala

@marierehema: This is refreshing amidst all

And why it is also challenging is that the implementing authority has a lot of work to do for such an investment to make sense and meet its main objectives:

@ABHAYZIRABA: Truth is so many of us need to ride to work than driving... It will help in de-congestion, environment will be saved etc... So
@KCCAUG should come up with more of such cycling lanes on our roads...

@habert_aboce: The real test is maintenance. It always is

@perrysonJ: Problem is vendors invade the lanes especially after 4pm. @KCCAUG look into it

As we celebrate this bold and smart step, let's pay attention to the raised concerns.

There have also been complaints about loading and off-loading vehicles blocking the walkways, boda bodas using both walkways and cycling lanes, the design needs for people with disabilities, lighting as well as planting trees to enhance aesthetics. These call for several action steps, and enforcement is one of them.

There has also been a valid reaction regarding riding from "nowhere to nowhere", which literally means KCCA should extend the network to other parts of the city, for the design to be more meaningful.

Nevertheless, great job, Kampala. African cities should learn to take such bold people-centered decisions for inclusiveness and efficiency.

______________________


The writer is an urban planner in academia and practice, who is passionate about active mobility

E-mail: amanda.ngabirano@gmail.com