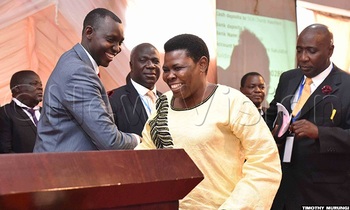 Gen. Caleb Akandwanaho alias Salim Saleh, the Chief Coordinator of Operation Wealth Creation (OWC) has donated sh20m to the Seventh-day Adventist Church, Makerere as support towards the completion of a modern church structure.

The money was delivered to the church on Sunday during a fundraising event by the NRM treasurer Rose Namayanja, who is also the former Nakaseke district woman Member of Parliament.

The fundraising targeted to raise sh600m which is needed to complete the four-storeyed church.

According to William Kigganda, the plan to build a bigger church started in 2006 when the old structure could not accommodate the increasing number of worshippers. Currently, the church has 978 members.

Kigganda said they started the foundation with sh10m and since then, they have carried on with the works through money raised by the church members.

The fundraising event yesterday attracted several businessmen and worshippers who donated money towards the constructions. The church its self-raised sh100m, its various branches donated between sh10m to sh20m.

In addition to Saleh's contribution, Namayanja gave sh5m to the church. Saleh had been invited as the guest of honour to the event.

In her message to the church, she advised Christians to be on the alert and observe the ministry of health guidelines on prevention of the spread of Coronavirus.