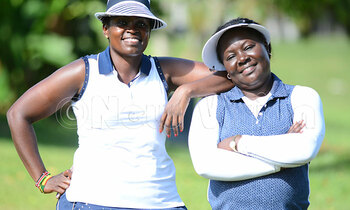 SINGLETON GOLF CHALLENGE

The ladies pairs of Doreen Mwesigye/Wendy Angudeyo and that of Gloria Mbaguta/Sheila Kesiime showed they would be hard nuts to crack after they continued their match to the Singleton Golf Challenge Round of 16.

Action at Entebbe Club on Saturday saw last year's quarter-finalists Wendy Angudeyo and Doreen Mwesigye beat Peter Apell/Andrew Baguma, 6&4 while 2018 winner Kesiime eliminated Paul Ojambo/Tony Katamba, 3&1; in the four-ball-better-ball match play championship.

The two lady pairs will now continue fancying their chances against Marvin Kagoro/Oscar Semawere and Conrad Odere/Moses Mukiibi who eliminated Twinemanzi Tumubweinee/Robbins Mwehaire and Caroline Namutebi/Judith Komugisha, in the Round of 16 respectively.

"We are going to continue winning. There is no specific trick we are using; just play the course as per our handicaps. It is a bit stressful but we shall continue pushing for the victories," Mwesigye said.

Greg Paterson and Hercules Nicholas who eliminated last year's winners in the previous round were also bundled out; 4&3 by Paul Kalemba and Faith Namara.

The only remaining mixed pair of Anthony Ndegwa/Diana Nambalirwa was also; 2&1 winners over Josef Salani/James Eyul while Joseph Bogera/Charles Hamya were also victors over Ronnie Kasirye/Nathan Mubiru; 2up.

Moses Matsiko/Ashavin Kananathan beat John Basabose/Kato Ssebbale, 1up just like Dejan Stepanovic/ Mathias Kalule did to Tony Kisadha/RichardMwami.

Timothy Mwanda/Ssubi Kiwanuka, as well as Ernest Rukundo/Rogers Byaruhanga, also registered uniform; 4&3 victories over Edwin Tabaro/George Nkya and Patrick Kagoro/Garry Gonza respectively.

Meanwhile, 16 professionals will also take part in the next round following their qualifier on Friday. Silver Opio will take on Herman Mutaawe while Davis Kato will face Vincent Byamukama as Deo Akope and Toolit Brian entertain Ronnie Bukenya and Becca Mwanja respectively.

Other match-ups include that of Ronald Rugumayo versus Martin Ochaya, Abraham Ainamani v Saidi Mawa, Herman Mutebi v Phillip Kasozi and that of Abbey Bagalana fighting it out with Emma Ogwang.

David Spencer and Irene Nakalembe topped the subsidiary event in both the men and ladies categories respectively after posting 39 and 38 stable ford points respectively to win themselves accommodation for 2 each at the Lake Victoria Serena Golf Resort and Spa.

The 19th hole was spiced up by comedy performances from Napoleon, MadRat, and Chiko as well as Salvador. Those who dressed in the 'cowboy' theme were also rewarded by the sponsors Singleton.

Other co-sponsors of the event include RwandAir, DStv, Serena, HTC Hub, Ekspresso, Mitsubishi Motors, Pinnacle Security, cba, Street Club, and MARSH Insurance.

Singleton Golf Challenge

Subsidiary results

Group A-Men

David Spencer 39pts

Paul Rukundo 34c/b

Michael Tumusiime 34

Group B

Serwano Walusimbi 38

Dan Kajungu 37

Bruce Madete 36

Group C

Mark Nahabwe 43

Joseph Adrapi 40

Godwin Eyoki 39

Ladies-Group A

Irene Nakalembe 38

Anne Abeja 36

Resty Nalutaaya 32

Group B

Jovia Tugume 40pts

Charity Atuhaire 35c/b

Lukia Tiko 35

Nearest to the pin

Martha Babirye

Walter Debbo

Longest drive

MackieNasser

Martha Babirye