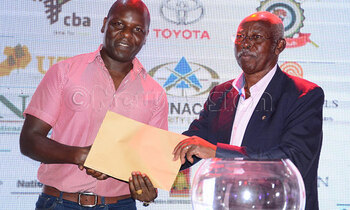 GOLF

Uganda Golf Club captain Jackson Karyarugookwe has advised the corporate world to tap into the many benefits that the golf club has to offer to market what their organisations and companies do.

Karyarugookwe was speaking to corporates from companies that sponsor a number of activities at the club and the potential ones that are yet to join golf sponsorship during a partners' appreciation cocktail at the Uganda Golf Club on Thursday night.

"Due to the diverse membership from areas of business, government and civil society, the level of connectivity to reach out cannot be over-emphasised," Karyarugookwe said.

"The clubhouse and course surroundings provide an excellent opportunity to advertise products and services at easy terms beneficial to all parties. We also have plans to enhance the value of the club and this would require partners for development,"

He said the club also offers an opportunity for Corporate Social Responsibility activities given the large number of membership totaling 700.

Over 30 corporate companies were recognised for associating with UGC and the game with 3; AAR Health Services, R&T Construction and Fabrication Systems winning themselves free corporate membership from the day's raffle.

Gems Cambridge International School also made an offer of a free scholarship worth $2,130 (sh8m) that went to Arthur Bagenze of Oryx Energies.

Chairman Board of Trustees Senior golfer Dr. Sam Zaramba urged the corporates who hadn't joined the sport to join and enjoy the immense benefits while UGC competition secretary David Ssekitoleko encouraged the corporates to take advantage of the opportunities that the sport offers including connections, healthy, business urging that it was more than the small white ball but that it was everything about life.

Uganda Golf Union president Moses Matsiko thanked the different sponsors for associating with the game. "We do appreciate what you do to come and consider the game of golf, to sponsor and to prioritise amidst your other expenses; we are with you as the Uganda Golf Union," Matsiko said.

National Council of Sports Chairman Donald Rukare congratulated the UGU for having been admitted to NCS and to full membership of the Uganda Olympic Committee before challenging the union to spread the game in schools.

"We pledge to support the union through issues like capacity building, equipment and we look forward to seeing a strong school program through which the game will continue growing," Rukare stated.