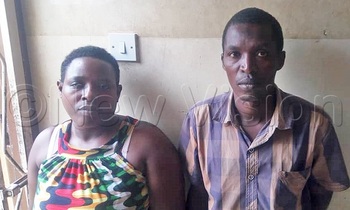 MBARARA - The Police in Mbarara district have arrested a woman for allegedly faking the kidnap of her two-year-old son.
The suspect, Julian Katushabe, 38, is a resident of Kiswahili cell in Mbarara town.
Samson Kasasira, the Rwizi region police spokesperson, confirmed the arrest of Katusabe and revealed that on March 10, Michael Nsamba, 53, a resident of Booma cell in Kamukuzi, reported a case of the kidnap of his son Joseph Mulindwa.
Kasasira noted that upon the police's intervention, it was found out that Katushabe had allegedly connived with Imana Ndabanisha Musa Umar, a Congolese refugee staying in Mbarara, to obtain money from the father of the child.
"The said kidnappers have been using 0794891628 to call, demanding a ransom of shs20m from Nsamba or else they send him the body of his child. But through trucking and investigations, we managed to ascertain who was behind the move," Kasasira said.
He further noted that fortunately, no money had been sent to the alleged captors and that the child was handed to the father.
He confirmed that Katushabe and Ndabanisha are currently detained at Mbarara Police Station pending further investigations.