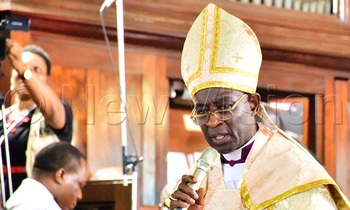 RELIGION HEALTH

KAMPALA - The Archbishop of Church of Uganda, the Most Rev. Dr. Stephen Samuel Kaziimba Mugalu, has issued guidelines on the proper and safe conduct of various religious practices in order to mitigate the spread of coronavirus (COVID-19).

In a letter dated March 13, 2020, he issued guidelines as regards to Holy Communion, Baptism, greetings and confirmation to the churches.

"Those involved in baptism should thoroughly wash their hands with soap and water before baptism- pastors, parents, and godparent. For infants, clergy should request the parents or godparents to hold the child while pouring water," he said.

On Holy Communion and confirmation, he advised the clergy involved to wash their hands with soap and water, while those receiving the Holy Communion or Confirmation to use hand sanitizers before the rituals.

Kaziimba warned against hugging and handshakes while wishing one another peace, during greetings, weddings, funerals, overnight prayers, and Sunday service.

He advised the clergy to keep a distance of two metres while praying for the sick and also avoid touching the sick.

"All churches should have stations with hand sanitizer and members should use hand sanitizer as they arrive at church, before Holy Communion and when leaving the church.

All churches must provide handwashing stations near latrines and toilets with soap and water," he said.

He also warned Ugandans against testing God by neglecting what the government has advised on personal behavior to prevent transmission of the global pandemic.

"We should make wise choices to keep healthy, practice good hygiene, and do so as the President and the Ministry of Health have advised. Do not ignore their good advice because you think that is the 'spiritual thing to do', no, we should not put the Lord our God to the test by neglecting what our elders have advised us to do," he warned.

He also urged Ugandans not to be anxious and scared, noting that Jesus is sovereign over all affairs of the world and knows every detail of their life.