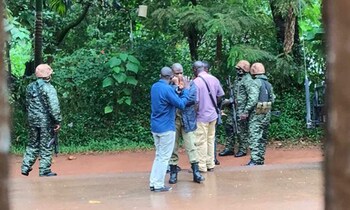 GEN. TUMUKUNDE
Appearing on a local TV station, on a morning show on March 5, Lt. Gen. Henry Tumukunde said that he would facilitate change of Government in Uganda if he was Rwanda.

"If I was Rwanda, I would wish to support people who want to cause a change in Uganda. If I was them rules are very clear, the issues that we have, we used to have them with Kenya, we even took troops to the borders," Tumukunde said.
Security operatives at Tumukunde's home in Kololo. Photos by Stuart Yiga
Tumukunde further disclosed how Uganda's intelligence system was getting weakened and causing troubles with the neighbours.

"I wish to underline that if you don't stick to intelligence and if you don't promote your intelligence properly and give them the competence to find out what is wrong and what is right, you are always at risk of being in conflict all the time," Tumukunde who once headed Internal Security Organisation and the Directorate of Military Intelligence said.

He said he knows who to blame in case he gets killed after authorities withdrew his escorts.

"Well me I did my part, maybe my personal security… if anything happens to me I know who to blame and my people know who to blame. The state of security I did my part, let it stay to those whose business it is today, the Kakas, the Ocwets, Gen. Elly Tumwine."


He also reminded those who took away his security the rules.

"But if you remove security from me and I die tomorrow, the rules are very clear, very clear. Your grandchild has five escorts and a general has no escorts," Tumukunde said.
Grace Akullo, CID chief led the operation
Tumukunde was arrested on Thursday night at his home in Kololo before being taken to Kibuli Police CID headquarters to record a statement.
He was later taken to the Special Investigations Unit in Kireka where he spent a night.