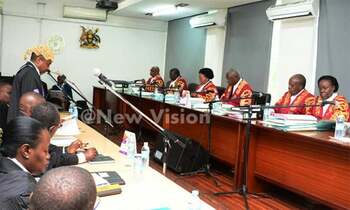 Supreme Court in session during the age limit proceedings. A concerned citizen is asking court to suspend the elections. File photo
ELECTIONS CORONAVIRUS

A concerned citizen has run to court, seeking the suspension of 2021 general elections over coronavirus outbreak.

EC was sued alongside the Attorney General who is the legal advisor of government.

On Thursday, Abby Mgugu filed his suit at the Civil Division of the High Court seeking a declaration that court suspends or postpones and or halts all elections of 2021 in Uganda for five years or until the government gains control over threatening disaster or danger of coronavirus.

Mgugu says there is a need for government to closely monitor and gain control over the threat of coronavirus in Uganda before the campaign schedule for the general election of 2021 sets off in October.

Court documents indicate that the campaign rallies involve the close association of people, uncontrollable movements and excessive contact which Mgugu verily believes the threat of coronavirus will cause restrictions in movement, association, and contact which will consequently affect the spread of campaign messages by the candidates to their voters and is a fundamental factor to free and fair elections.

The applicant (Mgugu) asserts that the threat of coronavirus will affect election monitoring due to restrictions on immigration that will affect election observers who are necessary for ensuring free and fair elections.

"The social, economic and political life of the country is threatened by the spread of a dangerous natural disaster; coronavirus rendering it necessary to declare a state of health emergence," Mgugu asserts.

Mgugu adds that based on the nature of how coronavirus is spread, he reasonably believes that the Ugandan community will not freely exercise their political rights which is a crucial element of democracy due to the restricted movement and association.

According to the court documents, the applicant strongly believes that the relief sought is essential to the life of the Ugandan community and also enabling government gain control over the spread of coronavirus as the public stands a risk of irreparably losing lives of dear ones compared to the general election process that can be halted and resumed any time.

He further states that in most public places in Uganda, people are being sanitized against coronavirus before being allowed inside of any public premises but the settings of political rallies are difficult to manage because they are held in open crowded places associated with uncontrollable movements and excessive contact.

"I got to know about the impact of the threat of coronavirus when I visited some public places, like the Industrial court, Uganda Revenue Authority head offices Nakawa, among other public places where sanitizers have been placed to control the spread the virus and also from the adverts by Judith Nabakooba advising the public to take precautions similar to those named above," reads part of the court documents.

Mgugu also wants the court to direct EC to halt all the elections of 2021 across the country, Uganda until 2026 or otherwise.