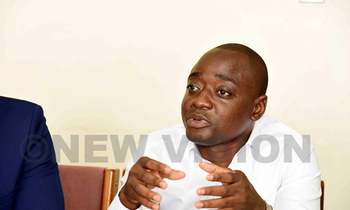 BUSINESS

KAMPALA - A bitter row has erupted between city tycoon Hamis Kiggundu and his bankers over loan repayments amounting to about sh39b.

The bankers — Diamond Trust Bank (Uganda) and Diamond Trust Bank (Kenya) — are threatening to attach Kiggundu's assets, including his palatial residence at Kawuku, Wakiso district and commercial buildings in the city.


The banks argue that Kiggundu received a credit facility totalling over sh41b a few years ago and he still owes them about sh39b. In turn Kiggundu, who is better known as Ham, is accusing the banks of fraudulently siphoning over sh200b from his accounts without his knowledge and consent over the past 10 years.

Kiggundu, the proprietor of Ham Enterprises Limited, has consequently petitioned court to block the banks from seizing and selling his assets in order to recover the money he claims was fraudulently taken from his accounts.

Kiggundu is currently involved in constructing a multi-billion shilling Ham Shopping Mall on land belonging to Nakivubo War Memorial Stadium in the city centre.

Situated adjacent to St Balikuddembe Market, Ham Shopping Mall is the largest shopping complex in the city, housing thousands of traders dealing in a wide range of commodities. The inner part of the circular complex is supposed to be the reconstructed Nakivubo Stadium. But the construction of the stadium has stalled.

According to court documents seen by New Vision, Kiggundu between February 2011 and September 2016 was granted various credit facilities by the banks.

Through Ham Enterprises Limited, Kiggundu obtained a loan of $6,663,453 and later sh2.5b from the DTB (U) to finance his projects in the real estate business.

He also obtained another facility worth $4.5m through Kiggs International (U) Limited from DTB (K) and mortgaged his properties, which include Plot 328 located at Kawuku on Block 248 Kyadondo, three plots that include 36, 37 and 38 on Folio 1533 Victoria Crescent II situated in Kyadondo and land on Makerere Hill Road on LRV 3716 Folio 10 Plot 923 Block 9.


According to the banks, as of January 21, 2020, Kiggundu was in default on payment obligations of $6.298m on the loan facility of $6.663m, as well as sh2.885b on the demand overdraft facility of sh1.5b and the temporary demand overdraft facility of sh1b.

They further claim that Kiggundu was in default on the payment of another $3.662m out of a total loan facility of $4m and another $458,604 on a loan facility of $500,000, as of January 21, 2020.

The DTB consequently served him with a demand notice to either pay up or lose the assets that he submitted as collateral security. The bank threatened to attach a plot on Makerere Hill Road and other prime commercial properties.

Kiggundu responded by writing to the Diamond Trust Bank, alleging financial fraud involving over sh100b.

He said the money was dubiously withdrawn from both his dollar and shilling accounts. He stated that the monies fraudulently withdrawn from his company accounts were in excess of what the bank was demanding for. He said they had carried out an audit of his bank account and discovered that the money was siphoned off over a period of 10 years.

"We hereby communicate termination of all existing contracts. Therefore, as far as Ham Enterpries (U) Ltd is concerned, there is no indebtedness to you," Kiggundu stated in his letter to the DTB.

A total of sh29.035b, he said, was unlawfully debited from his shilling account, while $22.93m was withdrawn from his dollar account under what he calls unclear debits. In two letters to the bank, Kiggundu, who has been accessing loan facilities from DTB for over 10 years, issued a notice to the bank terminating his relationship and withdrawing the mortgage instruments.

In another letter dated January 10, 2020, he demanded that the bank hands over his land titles within five days and warned of legal action if the bank failed to do as asked. Subsequently, on January 10 this year, Kiggundu, through his companies, Ham Enterprises Limited and Kiggs International (U) Limited, dragged Diamond Trust Bank Uganda and Diamond Trust Bank Kenya to the Commercial Division of the High Court seeking an order of recovery and return of all the monies "unlawfully, unjustly and unfairly debited or recovered" from his company accounts.

He also sought court injunctive orders "restraining the defendants and their representatives, nominees or assignees from attaching, selling, transferring and/or interfering with the plaintiff's legal interests and physical possession of the suit properties, on account of any alleged debt and or accrued interest."

Other reasons for the application include a declaration that the defendants (DTB) "jointly and severally acted in breach of contractual, fiduciary and statutory duties during the subsistence of bank-customer and contractual relationship" with his company.


Kiggundu stated that the bank's acts of breach, misrepresentation and negligence complicated the performance of contractual relationship between his companies and the bank to their prejudice.

He asked court to order for a full-account reconciliation of all his financial transactions with the bank and for court to declare that credit facilities he obtained from the bank have since been settled.

Kiggundu argues that when the bank granted him credit, it either did not disburse some of the agreed sums or purported to disburse the monies, but in turn, "unlawfully debited and/or appropriated the same without his knowledge and consent".

"The defendants purported to disburse the sums, but almost synonymously enriched itself of the same to their sole benefit, much to the prejudice of the plaintiffs," Kiggundu adds.

Bank responds

In its defence, however, the bank dismissed the accusations, saying Kiggundu has lodged the suit in "bad faith and does not come to court with clean hands".

"The defendants shall contend that the first plaintiff has acknowledged its indebtedness in writing and that this suit only seeks to delay the payment obligations and as such ought to be dismissed," the bank stated in the reply.

The DTB said the terms of the credit facilities were freely and voluntarily executed by Kiggundu's company that, they say, certified that it received independent legal advice and "were not unreasonable, unfair, unconscionable or unjust" as alleged.

"The defendants shall at the trial contend and prove that the facility agreements entered into by the defendants and plaintiffs are legally binding and enforceable under the law," the defence statement reads in part and says Kiggundu would be asked for strict proof.

The bank denied accusations that the loan terms given to Kiggundu were unfair. The bank argues that the credit facilities extended to Kiggundu were based "on terms used in banking practice and were terms agreed" with him.


Also related to this story

Minister Obua confident of Nakivubo Stadium progress