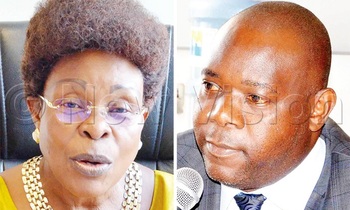 2021 ELECTIONS POLITICS

KAMPALA - As the 2021 presidential and parliamentary elections gain momentum, incumbent MPs in many constituencies are worried about those who have declared their intentions to replace them.

In our ongoing weekly series of analyses, examining the aspirants and the issues that are likely to influence voter choices, Umaru Kashaka looks at Rubaga North constituency in Kampala

Jostling for the Rubaga North MP seat, currently occupied by radio journalist-turned-politician, Moses Kasibante has already kicked off.

Six aspirants, and still counting, have declared their intentions contest in the next year's general elections. They include Kasibante of Democratic Party (DP), lands minister Beti Kamya (NRM), former MP Singh Katongole (NRM), division councillor Abubaker Kawalya of Forum for Democratic Change (FDC), the co-ordinator of People Power pressure group in the area, James Mubiru and former area councillor at the defunct Kampala City Council Henry Nsubuga (DP).

The Rubaga North seat has been in and out of the hands of both the ruling party and the Opposition. It was previously occupied by Wasswa Lule, a son of former President Yusuf Lule, before NRM's Sam Kayongo grabbed it and later FDC's Kamya.

Rubaga North is located south-west of Kampala and it comprises areas such as Kasubi and Nakulabye. It is also a constituency to watch since it is where main Buganda traditional sites, such as the Kasubi Tombs (the burial site of the kings of Buganda, are located.

The constituency also houses the seats of the Catholic Church at Rubaga and the Anglicans at Namirembe, whose leaders command immense respect among the people there.

Kamya's prayer
Kamya, the likely NRM choice, will be praying that the opposition fails to choose one contender for the seat. Analysts believe the crowding might work in her favour because the opposition has to share the votes among themselves.

At the moment, it is hard to see any of the two main opposition aspirants (Kasibante and Kawalya) stepping down for the other.

Kamya, who held the MP seat before retiring to hit the presidential campaign trail in 2011, has been preparing to recapture it for three years now.

"Yes, I will contest," Kamya, the former minister for Kampala, said, but declined to comment on the matter, saying she was in the meeting.

However, members in her camp argue that Rubaga North is lagging behind because there is no link between the area and President Museveni, who is also NRM's national chairperson.

They add that since Kamya is a minister, she will use the opportunity to influence the President and have better services delivered to the constituency. However, political commentators argue that her inconsistency in political parties may prove to be her undoing. She left FDC to form her own party, the Uganda Federal Alliance (UFA), which she has now officially left to join NRM.

Kamya, 64, officially joined the ruling party on Tuesday at the party's offices in Rubaga division and was welcomed by the area NRM chairperson, Justin Buchana and his Kampala Central counterpart Salim Uhuru, among others. After signing an oath of allegiance, Kamya said progress in Uganda lies within NRM.

"Before I was known as an Opposition stalwart, I had been in NRM. This is the second time I am joining the party," she said.

"You have to be a visionary to lead the country. The NRM and President Yoweri Museveni have the vision for this nation. I have come with all my energy to take that vision forward," she said.

Buchana said Kamya will be among those receiving the party card tomorrow as the party issues cards in preparation for next year's polls.

NRM expects to hold its primary elections from August to October before the Electoral commission nominates for Presidential and Parliamentary seats.

Buchana said Kamya has come to give them more push. "She will work with us to further our agenda and ensure that we win elections at all levels," he said.

Kasibante's battle

Kasibante, on the other hand, has a tough battle on his hands to retain his seat.

But Kasibante, 45, sounded confident of victory again, due to his clear record as a defender of human rights.

"What Rubaga North missed before I went to Parliament in 2012 is what makes me feel stronger. The constituency lacked a strong voice in Parliament, but when I was elected, that became a thing of the past," he said.

He said he has fought against the eviction of market vendors at the Kasubi and Nakulabye markets.

"I have also protected school lands from grabbers," he said.

His outspokenness on President Museveni's shortcomings and pro- Buganda issues has endeared him to many opposition supporters and Buganda loyalists, who dominate the constituency.

Observers say Kasibante, who enjoys the visibility, which comes with incumbency and is still quite popular, especially among the lower classes of constituents, has built some political capital out of Kampala Lord Mayor Erias Lukwago and Dr Kizza Besigye's troubles.

He has stuck with them through thick and thin and faced the wrath of the Police several times. He is expected to continue partly leaning on their backing to retain his seat.

However, his critics argue that he has not served them well and has been fuelling demonstrations in the city, which have disrupted businesses. He, however, refutes the claims.

Following the 2011 parliamentary elections, Kasibante, with the help of Lukwago and Medard Sseggona, who had just won the Busiro East MP seat, went to court, challenging NRM's Singh Katongole's victory.

Katongole, who had been declared winner through a disputed re-counting of votes, was kicked out of Parliament by court, reinstating his opponent, Kasibante.

In 2016, elections, Kasibante garnered 17, 802 votes, representing 34% of the total votes cast. His immediate rival, Kamya polled 16,664, which was 32% of the vote.

Other contenders were Brian Kusingura Tindyebwa (NRM), George Kawooya (DP), Francis Kizito, Vincent Musoke and Humphery Mutebi. Kasibante attributed his victory to the Electoral Commission officials, who he said listened to him and took time to cross-check the irregularities.

Kawalya complicates race

The last election was a two-horse race between Kasibante and Kamya. However, this time round, Kawalya has opted to enter the fray.

He is now considered as one of the front-runners. Asked why he was seeking to unseat Kasibante, Kawalya, 37, said: "It is all about creating opportunities for young leaders. If somebody has served two terms, he should quit because that time is enough to deliver for your people," he said.

"I am serving my first term as councillor, but I decided not to seek re-election in order to give young people a chance to also lead," he said.

He added that he has served on several Kampala Capital City Authority (KCCA) committees such as the civil engineering one and believes that he has gained enough political clout to vie for the Rubaga North MP seat.

Kawalya, who is viewed as a development-oriented man. on Thursday was elected KCCA speaker. Kawalya garnered 17 votes beating Doreen Nyanjura, who got 14 and Muhammad Ssegirinya who got one vote.

Katongole missing in action

Efforts to get comments from Katongole were futile. When court ejected him from the 9th Parliament over lack of valid academic documents, he rushed back to school. He says he wanted to clean his name and prepare for 2021 elections. He scored 13 points in the 2016 Senior Six results from Golden Secondary School in Lungujja, Rubaga division.

In 2015, Civil Court registrar Festo Nsenga issued an order restraining the NRM's electoral commission from presenting Katongole as its candidate for the MP seat.

The move followed an application filed by Tinyebwa, who lost to Katongole during the NRM primaries.