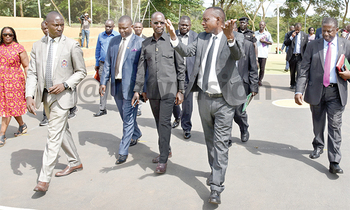 December 16 to 21

East Africa University Games

Motto- Be exceptional

Sports State Minister Denis Hamson Obua is very impressed by Ndejje's facilities ahead of the East Africa University Games.

"I am very very impressed. Your facilities are even better than some of government's sports facilities," stated a visibly enthralled Obua.

Obua was touring the university's facilities before launching the games' organizing committee in Luwero.

The facilities include three standard football pitches, basketball, netball, handball and volleyball courts on top of a woodball ground and swimming pool.

Despite tight ministerial budgetary timelines, Obua also promised to support Ndejje's appeal for government support.

Ndejje, who have a sh3bn budget, want state support in construction of dressing rooms and a mini gym.
Sports minister Obua (left) awed by the university swimming pool. PHOTOS: Richard Sanya
This is on top of a tartan track, tarmacking of Ndejje-Bombo road and construction of spectator stands at the swimming pool.

About the road, Obua promised to remind the relevant line ministry.

"In principle, I agree that Ndejje needs support, but how that is going to be done is the issue."

Citing a delay in the request, he directed National Council of Sports General Secretary Patrick Ogwel to take the lead in guiding Ndejje on how to pursue the matter.

Over 3,000 students in 75 institutions, from seven countries, will stay at the Ndejje campus. They will be competing in 18 disciplines.

Ndejje won the bid on strength of a rich history that has seen it win the East African games a record six times.

They are also four time national champions and three time hosts of the national university games.

Ndejje Vice Chancellor Prof. Eriabu Lugujjo said besides competition, the games have wider objectives.

Sensitizing communities about the role of sports as a major tool in community partnerships and development, is one of them.

Advocating for unity, respect, friendship, fairness, integrity and brotherhood to enhance collaboration among universities and East Africa as a region, is another.

Also in attendance were World University Sports Federation (FISU) vice president Peninnah Kabenge and East Africa University Sports Federation president Cyriaco Kabagambe.