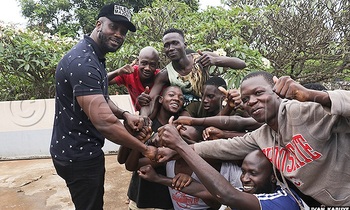 The Police have finally released 11 Moses Ssali's alias Bebe Cool attackers on bond.

The accused were arrested after allegedly pelting the musician with empty bottles and other disposables, as he performed during the Boom Party Concert which had been organised by the renowned female dancehall artist Cindy Sanyu at Lugogo Cricket Oval on Saturday.

The act was condemned by sections of the public on social media including the Presidential Advisor on Special Operations, Lt. Gen Muhoozi Kainerugaba.

On his official twitter account, Muhoozi wrote: "How could @PoliceUg and the bouncers at Cindy's Concert allow a few hooligans to hurl bottles at one of Uganda's greatest artists?"

He also blamed police for failure to reign in on 'hooligans' who beat up President Yoweri Museveni's supporters on Women's Day.

"Yes, they have been released on bond. But we are still working on their file. We shall send it to the Director of Public Prosecution (DPP) for advise. The 11 are facing a charge of assault," The Kampala Metropolitan deputy spokesperson, Luke Owoyesigyire revealed.
The release was effected a few hours after Bebe Cool interacted with the suspects at Jinja Road Police Station.

Bebe Cool said though they misbehaved, he resolved to pardon them and requested for their release.

But Owoyesigyire said the 11 still have a case until Ssali shows no interest in the case

"These are young people who are misguided by selfish individuals with their own intentions. And when they are in jail, those who incite them to do wrong, don't rescue them," Bebe Cool said.

He advised youths to desist from being used by politicians because nobody cares about them when they get in trouble.

"Those who incite them to walk free. Those arrested leave their families suffering since there is no one to provide for them," he said.

The youth promised never to engage in any wrongdoing if released.