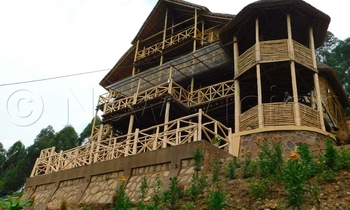 On arrival at the shores of Africa's deepest water body, Lake Bunyonyi, one cannot help being awed by the rising hills hugging the sky from a distance.

This panoramic view is punctuated by plush eco-friendly accommodation facilities like Hawk's Eye, Bunyonyi Safaris and Bird's Nest. This variety and many more leave a traveller spoiled for choice.

To feel the pulse, I spent a night in three different locations. It became a revelation of a vibrant holiday resort where urbanites sneak and have a break.

The starter is the beautiful view of the water as birds flap their wings and tweet from 6:00 am-6:00 pm.

The cuisines served are the reason for any tongue to riot. The menu offers pork, chicken, beef, fish, pilao, Rolex and chips.

These are served with conventional steamed: bananas, rice, millet/maize bread. Vegetables are a compulsion.

The rooms are spacious and exploit natural light to capacity with wide glass windows.

Homesick travellers have computers to keep in touch with their family members, followers and lovers. Bicycles are available for hire and take a ride to the weekly Katale (market) or around and about the 29 islands.

A chat with Bunyonyi Safaris Lodge entrepreneur Charlote Kamugisha was a revelation of a booming business.

The place always has the business fraternity meeting to strike deals or their employees have retreats and team-building excursions there.

A stone's throw away is Hawk's Eye where one gets a bird's view of the other islands including comedian Anne Kansime nook.

The proprietor Parity Twinomujuni says individual or group excursions can be arranged. He says the Africa to Africa theme of last year's Pearl of Africa Tourism Expo (POATE) theme resonates well with his establishment's focus.

"We conduct community tourism ventures that treat guests to traditional blacksmiths, herbalists and Obushera (millet porridge) pubs" says Twinomujuni.. "These trails in communities are a bonus to nature walks, zip-lining and bird watching."

"The idea being that even if one's interest was the lake, gorillas tracking or bird watching," explains Twinomujuni. "There are communities on Byonamagara Island living near these attractions with their cultural diversity. There many are awed by fortune tellers, love portions and herbal libido boosters. "

At Hawk's Eye, I met Regional Miss Tourism Winners from Busoga, Karamoja, Teso and Kabale. We took a nature walk on a variety of hills, forests, residences and steep valleys.

Armed with a portable music machine the walk was punctuated with dance episodes here and there. A sip of Obushera at Shakira Aineplan's Pub was the climax of the excursion.

"Obushera makes the consumer energetic," says Aineplan. "It also improves the sex organs of the man and the woman. If taken well there are 90/100 chances of getting twins."

Jean Akullu from Karamoja sampled the stuff in a huge wooden cup and said back home they sip it steaming hot. She loved sipping it while listening to music but preferred the dregs more than the liquid.

Lucky Zaka noted that be you a Karimojong or Munyoro there are similarities like being cattle herders, eating millet bread, walking sticks and sipping amarwa (millet beer.)

"Our ancestor defended themselves using spears before guns were brought in our midst," said Maclean Ayebaze of Kabale. "I am surprised there are still traditional blacksmiths in this computer era. It makes me proud of my roots."