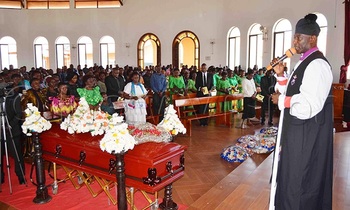 ARCHBISHOP FUNERAL

KAMPALA - The Archbishop of the Church of the Province of Uganda, Dr. Samuel Steven Kaziimba Mugalu has spoken highly of Dr. Samuel Eridadi Kiggundu referring to him as a professional engineer of admirable integrity, who served the Church and the country with great commitment.

He asked the people to emulate him. Dr. Kiggundu, a former lecturer and Dean of the Faculty of Technology at Makerere University, passed on at his home in Kyambogo on Monday (March 2), at the age of 75.

He was buried at Kiwumu (near Buloba on the Kampala-Mityana road), on Thursday. Earlier before his burial, a funeral service was held in his memory at St. Luke Church of Uganda, Ntinda (Nakawa Division).

Dr. Kiggundu was also praised by the reigning President of the Uganda Institution of Professional Engineers, Vincent Ochwo Olie.

"He taught, nurtured and mentored many engineers. He made a significant contribution to the engineering profession and the development of our country. He was a man of strong character."

The Chairperson of Engineers Registration Board, Engineer Michael Odongo also paid tribute to Kiggundu.

"He mentored many of us in the profession. He had exceptional humility and integrity. Of course humility is characteristic of the engineering profession. It goes with our training. We don't talk much. We don't show off. We just act. When we were still his students, we used to admire his flock hair. We associated it with brilliance."

The team leader of Arch Designs, Architect Richard Turyahabwe said Kiggundu continued to come up with brilliant ideas to promote the profession, even during his retirement. He said Kiggundu was ever smart, organised and punctual.

Dr. Kiggundu was also eulogised by Dr. Wana Etyem (the former Chairman of Makerere University Council) and Dr. Mukasa Ssettumba, a relative and elder in the Nkima clan of the Baganda, to which Dr. Kiggundu belonged.

Dr. Kiggundu was a faithful husband, says wife

Dr. Kiggundu was also eulogised by his wife Gladys Nakato, who has lived with him for 53 years. In her message delivered to the congregation by one of her daughters, Gladys described Dr. Kiggundu as a loving and trustworthy husband, who remained committed to her even during poor health.

She cited two occasions when she was operated on and Dr. Kiggundu stayed with her in the hospital until she recovered. She said Dr. Kiggundu's actions amazed even the doctors.

"He was faithful to me in good health and bad health. He did not behave as a typical African husband. When we were still in London, he would help me with the children and also do all sorts of domestic work."

Solomon Kiggundu, a son, confirmed that his dad always opted to be private, which was why he shunned flamboyancy.

"It was because of his humility that he discouraged the placing of wreaths on his casket. It is only mummy who defied him; of course not in bad faith, but because of the enormous love and friendship each of them has been having for the other."

A brief on Dr. Kiggundu

He was born in 1945.
He attended Sewamala Church of Uganda PS Katikamu, King's College Budo, Imperial College London (PHD, Electrical Engineering). He taught at Makerere University, where he was also Dean of the Faculty of Technology (1972-89).

He was formerly a member of the Uganda Institution of Electrical Engineers and President of the Rotary Club of Mengo.

He worked at Uganda Post Office, Makerere University (lecturer, dean of faculty of technology), East African Technical Services (Private Practice) and Uganda Communications Commission. He was also a member of Kyambogo University Council.

He is survived by children who include Yvone Nabaweesi Kiggundu Lubwama, David Kiganda Kibirango, Carl Kiggundu Mugerwa, Jane Namuddu, Doreen Kirimanywa, Sheila Rose Naluzze Mujuni, Susan Belinda Nannyunja Mukisa Kiggundu and Solomon Tamale Kiggundu.

He is also survived by several grandchildren.