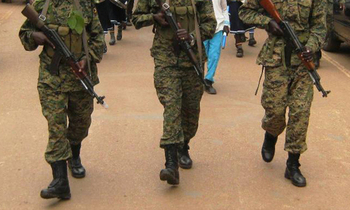 GUNFIRE UPDF
Three UPDF soldiers attached to Zombo Town council army detach were brutally killed on Friday.

Sources said the soldiers were killed in a midnight attack by a group of men wielding matchet and pangas, bows and arrows.

The group whose identity and motives remain unclear later retreated to Got Ajere.

The identities of the fallen officers have not yet been revealed.

The source said three of the attackers were also killed in the process. One of them has been identified as Charles Ovoya, a former rebel of the West Nile Bank Front who was granted amnesty around 2000.

Andrew Kajoyingi, the Zombo RDC confirmed the development to New Vision on Friday evening.

"It's true we lost three soldiers in an attack on our detach, but we can furnish you with the detail later," he said.

The UPDF spokesperson Brig. Richard Karemire, also confirmed that the armed with machetes, bows, and arrows attacked and three of the attackers were gunned down.

He described the attack as "suicidal", adding that security forces are working with the local leaders in hunting for the assailants.
He noted that investigations are also ongoing to establish the motive behind this heinous crime.

Meanwhile, heavy gunfire continues to rock Got Ajere in Zombo Town council as the UPDF engaged the suspected assailants.

Grace Aciro, a residence of Zombo Town council, says they have been advised to stay indoors as the UPDF battles the assailants.

John Urwiny, the Zombo district LC5 chairman condemned the attack, noting that such an act shouldn't be tolerated.

He called for calm, adding that people of Zombo should isolate people who want to bring trouble in the district.
John Oluba, a resident says the don't want the war, adding that they learnt a lot from LRA insurgency.

According to Oluba, such people should be arrested and imprisoned to send a strong signal to those who would be harbouring the same ideas.