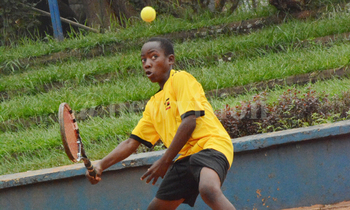 ITF/CAT East Africa 12 and under Teams Competition

Results

Boys

F.Agonzebwa(Uganda )bt A Adam(Sudan) 6-2 6-0

M.Hamdam(Sudan) bt J.Nyaata(Uganda)1-6 2-6

Doubles

F.Agonzebwa/N. Ochom(Uganda)bt A.Adam/H.Hamdan(Sudan) 6-2,7-4

Girls

E.Muwanguzi (Uganda)bt L.Mein(Seychelles) 6-0 6-0

E.Nabiryo(Uganda)bt L.Isnard(Seychelles) 6-1 6-0

Doubles

E.Nabiryo/C.Akot (Uganda) bt L.Mein /H.Wirtz(Seychelles) 6-0 6-0

Uganda's impressive performance continued in the ongoing ITF/CAT East Africa 12 and under teams competition following their doubles victories over Sudan and Seychelles Wednesday at Lugogo Tennis complex.

Francis Agonzebwa, one of the best players on the day, paired with Nasser Ochom to defeat Sudan's duo of Adam Yahya and Mohamed Hamdan 6-2 7-4.

Earlier, he had beaten Yahya 6-0 6-0 in the singles before Sudan leveled matters after Hamdan defeated another Ugandan Junior Nyata 1-6 1-6.

"I am happy that we won and this gives us confidence in our next matches. We believe we have the potential to make it to the final tournament in September", stated Agonzebwa.

Just like the boys' team, the girls' team also put up an exciting show with Eseza Muwanguzi and Edinah Nabiryo defeating Seychelles duo of Leeah Mein 6-0 6-0 and Lathisha Isnard 6-1 6-0 in the singles respectively.

Nabiryo paired with Charity Akot to beat Mein/Hailey Wirtz 6-0 6-0 in the doubles.

Uganda is the defending champions in the girls category after a team of Maggie,Flavia Namaganda,Eseza Muwanguzi, and Paula Awino qualified in Nairobi last year to represent East Africa at the AJC held at the Moundir Tennis Academy in September while the boys' category finished second as runners up.

The competition that is largely funded by International Tennis Federation (ITF) will see Uganda tussle it with Tanzania, Seychelles, Sudan, Burundi, Kenya and Ethiopia for the five-day tournament that will run Saturday.