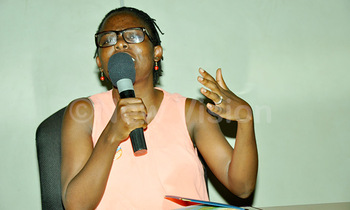 TECHNOLOGY HEALTH

KAMPALA - As Ebola ravaged West Africa in 2014, Grace Nakibaala, a final year architect student at Makerere University became worried that her mother might contract the disease.

Her mother was a clinical officer at Entebbe Hospital where one of the Ebola isolation centres had been set up. Another had been established at Mulago Hospital.

Nakibaala thought her mother was in harm's way because an Ebola isolation centre had been set up at her workstation, and Entebbe would be the gateway into Uganda for suspected cases.

She chose to investigate the effectiveness of the two Ebola isolation centres in preventing the spread of the lethal disease in her final university project. Nakibaale realized that people opened the water taps at the isolation centres with their hands. She thought that this handwashing system was not effective at controlling infections.

Nakibaala set her sights on developing a handwashing system that would not involve opening water taps with hands. Under sponsorship from Resilience Africa Network (RAN), a local innovation hub supported by the United States Agency for International Development, Nakibaala started manufacturing the "pedal taps" in 2016.

The taps are opened by pressing the pedal at its (tap) base with a foot. But one should be wearing shoes to avoid contact with the pedal. Nakibaala's pedal taps have so far won several international awards.

"I want to see infection control tools developed in the developing world. The product is doing well in the market. Pedal tap is my flagship project but I have a bigger dream for infection control," Nakibaala said.

She was speaking to students at the college of engineering, design, art, and technology during the fourth edition of the innovation fireplace event held by RAN at Makerere University recently.

Nakibaala urged the students to identify problems in their communities and find solutions to them through innovations regardless of their academic qualifications.

"I am architect by training and an innovator by passion. When I started on the final university project, I had seen some sort of a problem that I wanted to address in my dissertation. I made recommendations and the Government and institutions like the Centers for Disease Control liked the recommendations and started working with me," she added.

Dr. Annabella Baasaza, who sits on the board of National Information Technology Authority, and an associate professor at King Caesar University, urged students to take advantage of a number of innovation hubs being supported by Government to be mentored and helped to realise their innovative dreams.

She mentioned RAN as one of the innovation hubs and several others, including Outbox, Tetratec, Hive Colab, Makerere Innovation and Incubation Centre and CAMTech.

"Because the Government cannot mentor all these innovators, it is supporting these private hubs to help mentor and work with innovators to translate their ideas into products," Baasaza stated. She urged students to register their innovations with the Uganda Registration Services Bureau to secure their copy and patent rights.

Were Businge, a business development consultant, appealed to students to nurture ideas that can be translated into relevant products in their communities.

He added that innovations that seek to solve challenges in the communities would always be popular and easily marketable. He was responding to a question from one of the students, Brian Angura, who wanted to know how to identify relevant innovative ideas.

Hadijah Nagayi and Sharifah Birungi asked for tips on developing business models and marketing their products.