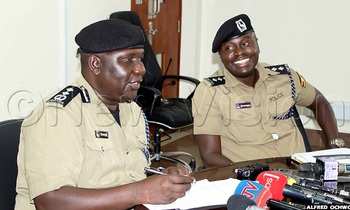 CRIME THEFT

KAMPALA - A 35-year-old woman has been arrested for allegedly stealing church offertory. Hope Nambwa, according to the Police spokesperson, Fred Enanga was on Sunday arrested at Watoto Church Ntinda.

According to Police, Nambwa came to church and disguised herself as a worshipper and when the time for giving offertory reached, church ushers passed offertory bags for people to put in their offertory.

However, Nambwa who had earlier known the colour of the bag had another similar bag and exchanged it with the church bag.

"As she exchanged the bag, another Christian saw her and later tipped off Church security and she was called out and arrested," said Enanga.

Enanga said Nambwa was found with church offertory worth Shs643000. "Upon arrest, Nambwa confessed stealing the church offertories and she has been charged with theft," said Enanga.

Enanga said that on arrest, Nambwa was found with different offertory bags which had different serial numbers and colours.