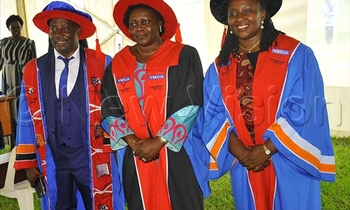 The State minister for mineral development Sarah Achieng Opendi has cautioned graduates against corruption.
Opendi said corruption diverts people from carrying out meaningful developmental work related to what they have studied after graduating.

She said all those who participate in corruption are not only robbing the state but the entire nation, affecting its planned development.

Opendi made the remarks during the 22nd graduation of 3,014 graduates at the Young Men's Christian Association (YMCA) Comprehensive Institute at Buwambo campus in Wakiso district on Friday.
Picture by Wilfred Sanya

She urged the graduates to desist from corruption and create meaningful jobs using the skills acquired from the institute. She said all the earnings one earns out corruption will be left behind when they die.

"Despite the fact that there are no jobs in government and private sector for many graduates, one should try as much as possible not to be taken away by corruption but instead work hard to earn clean money," the minister said.

"We have many youths who have gone to school and do not have jobs. It is not automatic for one to get a job straight away after completing school." Opendi advised the graduates to think in lines of job creation because it the best route in life.

She appealed to graduates not to rush into making families before planning for their future, but when the time comes, that they should have children whom they can afford to look after.
Herbert Mukasa Principle of YMCA Comprehensive institute left and Roselyne Birungi the Chairperson of the governing council in a procession during the 22 graduation at Buwambo campus. (Photo by Wilfred Sanya)
Hebert Mukasa. the Principle of the institute urged graduates that success is the beginning of a new and continuation of other struggles, something signifying the beginning of life.

He added that new life has challenges that require more efforts and hope to start up from where one has stopped.
He told the graduates that the institute has impacted them with the necessary skills which will assist them in attaining success in life.