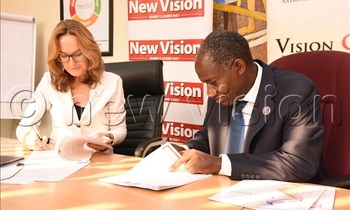 EDUCATION
Save the Children Uganda have today signed a sh220m contract with Vision Group to supply newspapers to 110 primary schools under the Newspapers in Education (NIE) programme.
Under the 2020 funding cycle, Vision Group will supply 2,505 copies of New Vision and 1,300 copies of the Luo weekly paper Rupiny, to disadvantaged schools supported by Save the Children in Karamoja and Acholi sub-regions.
Vision Group Deputy MD Gervase Ndyanabo, said during the signing ceremony at the company's head office in Kampala that children need to be protected and nurtured to grow up into useful citizens.
He observed that this places a huge responsibility on all stakeholders and Vision Group and Save the Children will play their part through the Newspapers in Education (NIE) project.
Ndyanabo said Uganda has a very high fertility rate which means that the country has a very large young population.
"All of us are responsible for looking after these children. For us we come in our humble way through the Newspapers In Education program," Ndyanabo said.
NIE is a worldwide movement that promotes the innovative use of newspapers in classroom teaching. New Vision is the first media house to pioneer the programme in Uganda in 2003. Ben Opolot, New Vision Managing Editor for English language newspapers, said the NIE project was in line with the company's vision of advancing society.
"At Vision we seek to advance society and that can mean a lot of things," Opolot said. "But one of them is to see how we create opportunities in whatever way for all Ugandans. NIE is one of the good opportunities because it provides reading materials for children."
Opolot said urban schools in Kampala have well-stocked libraries and NIE plays a critical role in bridging the learning resource gap for rural schools.
Save the Children Uganda Country Director, Brechtje van Lith said many children are not accessing education and learning at the level they should be. She said the media (NIE) can help in educating children.
Brechtje van Lith was happy to renew the NIE contract with Vision Group that now enters into its seventh year.
Part of the sh220m availed by Save the Children to Vision Group will be used for teacher training on the use of newspapers in classroom teaching; project monitoring and evaluation and for the development of other instructional materials.