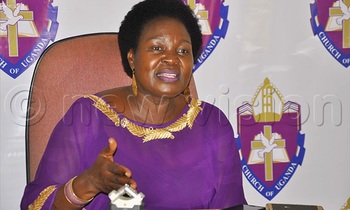 KAMPALA-The chairperson of the Kaziimba enthronement organising committee Hon. Ruth Nankabirwa has said preparations for the installation of the new archbishop have been finalised.
While addressing the media on the progress of the preparations at Namirembe Cathedral in Kampala on Thursday, Nankabirwa said whatever they planned to have in place before the enthronement had been covered, but quickly added that the final renovation works at the cathedral and bishop's official residence were still ongoing.
"There is still work going on. Our target as (organising) committee is to have first-class facilities to welcome the new Archbishop. It is why we still welcome donations. ," she said.
Nankabirwa also said they were expecting over 1,500 guests to turn up for the function, but was optimistic the number could shoot to over and above, and that they were still preparing for any eventual number that could attend.
She revealed that the archbishop's residence would be given a "palace" look once renovation works are complete.
"The archbishop's residence will be like a palace. The house is now fully furnished, with everything including kitchen utensils. Even chefs will be there. The archbishop will only carry his suitcase," Nankabirwa said.
Commenting on traffic and security guidelines that will be followed on the day, Nankabirwa said: "security will be beefed up.
There is going to be security personnel both in uniform and plain clothes," before quickly warning those who intend to come and attend the function with "dubious" intentions that they would be dealt with.
The Most Rev Dr. Samuel Stephen Kaziimba Mugalu was elected on August 28, 2019, to replace The Most Rev Stanley Ntagali as Archbishop of the Church of Uganda.
Kaziimba entered the official residence of the Archbishop in Mengo on Wednesday awaiting enthronement on Sunday, March 1, 2020, at Namirembe Cathedral. The Archbishop of Canterbury, Justin Welby, is expected to ordain him.
Who is The Most Rev Dr. Samuel Stephen Kaziimba Mugalu?
Stephen Kaziimba Mugalu was born on August 15, 1962, to Jessica Nanyonjo and Besweri Kaddu at Guluma -Najja Village in present-day Buikwe District.
He attended Gakuweebwa Munno Nursery School and then Lusaka Primary School, in Katwe, Kampala. He was baptised on 22 April 1973, at St. Luke's Church Kibuye, and confirmed on 22 September 1979, at Namataba, Mukono.
Kaziimba was trained as a Lay-Leader at Baskerville Theological College Ngogwe in 1985 and posted to Lugazi St. Peter's Church.
Between 1988-1990, he trained at Uganda Martyrs' Seminary (Provincial Certificate), and was ordained in December 1990 by Bishop Livingstone Mpalanyi Nkoyoyo, the then Archbishop of Church of Uganda. He served as Assistant Vicar at Nakibizzi Parish in 1990 - 1994.
From 1994-1996, he completed his Diploma in Theology at Bishop Tucker College, and posted to Katente Parish as Parish Priest (1997 - 2000).
In 1999, he was then transferred to Mukono Cathedral as Vicar in 2000-2001. And here he was made Acting Provost of Mukono Cathedral by Bishop Michael Ssenyimba after his Provost Canon Matovu had been made Bishop of Central Buganda Diocese.
In July 2002 to 2003, he completed his Master's Degree in theology (ThM) at Western Theology Seminary, USA. In 2004, he was confirmed as the provost of St. Philip and Andrew's Cathedral, Mukono.
From 2004-2007, Kaziimba pursued his Doctorate of Ministry at Western Seminary USA and was also made a Canon in 2007 by Bishop Elia Paul Luzinda Kizito.
He was consecrated as a bishop installed as 4th Bishop of Mityana Diocese, on 26 October 2008 replacing Bishop Dr. Dunstan Kopriano Bukenya.
Kaziimba was elected to be 9th Archbishop of Uganda by a secret ballot, with more than a two-thirds majority of the bishops of the Church of Uganda on 28 August 2019. He will be installed on March 1, 2020, at St. Paul's Cathedral, Namirembe. He will replace Bishop Stanley Ntagali, who will retire, having attained the retirement age of 65 years.
He is married to Margaret Naggayi Bulya Kaziimba and together have four sons